Best Guitars With P90P90 Configuration in 2023
Here you'll find the best guitars with P90P90 configuration. P90s are single-coil pickups (even though they look like Humbuckers), and they have a very particularly gritty sound that's used today to achieve a ''vintage'' tone. They produce a warmer tone than the typical single-coil, but they're not quite as warm as Humbuckers, and the same thing could be said about their output.
Out of the more than 2000 guitars in our database, these are the best scoring ones. You can use our filters to the left to narrow down these results, or click on "Compare" to get a deep comparison between them. Our automated scoring system takes into account the ratings from ours users who own the guitar, and dozens of parameters to determine the build quality, playability, pickups quality, value for money, and more.
There are affiliate links on this page that may earn us a commission if you purchase after clicking. We are members of the Amazon Associates Program, and many others.
Compare
From Chapman's 2022 Pro series
Made in South Korea
6 strings
25.5"'' scale
13.78" Fretboard Radius
Perupok body
Roasted Maple – Dark Colour neck
Roasted Maple – Dark Colour fretboard
Bridge pickup: Seymour Duncan Vintage P90 (Single Coil/Passive)
1 volume and 1 tone Dome knobs
3-way Switch
Chapman String Through hardtail bridge
C Shape Neck-Through neck
23 Jumbo Stainless Steel frets
Hipshot Grip-Lock Open (18:1 Gearing) tuners
Strengths & Weaknesses


Chapman ML3 Semi-Hollow Pro
Stainless Steel Frets
Locking Tuners
Ivory Tusq Nut
Top Brand Pickups
Neck-Through Build
Luminescent Inlay
Strap Lock
Made in South Korea
No Expensive Woods
No Push Knob or Extra Switch Option
No Tremolo
No Compound Radius Fretboard
No 21:1 Tuner Ratio
All Prices
Compare
Player Feedback
Neck access to high frets:

Hard (1 vote)

Fret edges:

Smooth (1 vote)

Tuning stability:

Sightly unstable (1 vote)

Weight:

Slightly heavy (1 vote)

Neck profile shape:

C (1 vote)

Pickups noise:

Slightly Noisy (1 vote)

Pickups power:

Clean (1 vote)
Own it? Share your opinion
From Fender Custom's 2020 Artisan series
Made in United States
6 strings
25.5"'' scale
9.5" to 12" Fretboard Radius
Koa top
1-Piece Vintage Michigan Mahogany body
3A Roasted Flame Maple neck
Round-Laminated Rosewood fretboard
Bridge pickup: Fender Custom Shop P90 (Single Coil/Passive)
1 volume and 1 tone Dome knobs
3-way Switch
6-Saddle Hardtail with Pat. Pend. Saddles bridge
1960 Oval C Bolt-On neck
21 Narrow Tall frets
Vintage Style tuners
Strengths & Weaknesses


Fender Custom Artisan Koa Dual P90 Strat
Made in United States
Expensive Wood
Bone Nut
Top Brand Pickups
Weight Relief
Compound Radius Fretboard
Cheap Fret Wire (NS)
No Locking Tuners
No Neck-Through Build
No Push Knob or Extra Switch Option
No Tremolo
No Luminescent Inlay
No 21:1 Tuner Ratio
No Strap Lock
Compare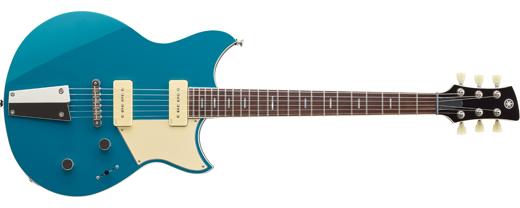 Player Feedback
Neck access to high frets:

Very Easy (1 vote)

Fret edges:

Smooth (1 vote)

Tuning stability:

Holds tune well (1 vote)

Weight:

Slightly heavy (1 vote)

Neck profile shape:

C (1 vote)

Neck speed (thickness):

Balanced (3 votes)

Pickups noise:

Slightly Noisy (1 vote)

Pickups power:

Slightly Hot (1 vote)
Own it? Share your opinion
From Yamaha's 2022 REVSTAR series
Made in Japan
6 strings
24.75"'' scale
12" Fretboard Radius
Top: Maple / Back: Chambered 2-Piece Mahogany, Carbon Reinforcement body
3-Piece Mahogany, Carbon Reinforcement neck
Rosewood fretboard
Bridge pickup: VP5b (Single Coil/Passive)
1 volume and 1 tone Dome knobs
5-way Switch
Tune-O-Matic bridge
Revstar C Set neck
22 Jumbo Stainless Steel frets
Die-Cast tuners
Strengths & Weaknesses


Yamaha RSP02T
Stainless Steel Frets
Made in Japan
Expensive Wood
Top Brand Pickups
Boost Pickups
Weight Relief
No Locking Tuners
No High-Quality Nut
No Neck-Through Build
No Tremolo
No Luminescent Inlay
No Compound Radius Fretboard
No 21:1 Tuner Ratio
No Strap Lock
All Prices
Compare
Player Feedback
Neck profile shape:

C (1 vote)

Pickups noise:

Slightly Noisy (1 vote)

Pickups power:

Clean (1 vote)
Own it? Share your opinion
From Fender Custom's 2020 Artisan series
Made in United States
6 strings
25.5"'' scale
9.5" to 12" Fretboard Radius
Burl top
1-Piece Vintage Michigan Mahogany body
3A Roasted Flame Maple neck
Round-Laminated Rosewood fretboard
Bridge pickup: Fender Custom Shop P90 (Single Coil/Passive)
1 volume and 1 tone Dome knobs
3-way Switch
6-Saddle Hardtail with Pat. Pend. Saddles bridge
1960 Oval C Bolt-On neck
21 Narrow Tall frets
Vintage Style tuners
Strengths & Weaknesses


Fender Custom Artisan Maple Burl Dual P90 Telecaster
Made in United States
Expensive Wood
Bone Nut
Top Brand Pickups
Compound Radius Fretboard
Cheap Fret Wire (NS)
No Locking Tuners
No Neck-Through Build
No Push Knob or Extra Switch Option
No Weight Relief
No Tremolo
No Luminescent Inlay
No 21:1 Tuner Ratio
No Strap Lock
All Prices
From Gibson Custom's 2022 Artist series
Made in United States
6 strings
24.75"'' scale
12" Fretboard Radius
Mahogany body
Mahogany neck
Indian Rosewood fretboard
Bridge pickup: Custom Soapbar P90 (Single Coil/Passive)
2 volume and 2 tone Bell knobs
3-way Switch
Tone Pros Stop Bar bridge
Mike Ness Set neck
22 Jumbo frets
Gotoh Nickel, Single Band tuners
Strengths & Weaknesses


Gibson Custom Mike Ness 1976 Les Paul Deluxe Aged
Made in United States
Expensive Wood
Nylon Nut
Top Brand Pickups
Cheap Fret Wire (NS)
No Locking Tuners
No Neck-Through Build
No Push Knob or Extra Switch Option
No Weight Relief
No Tremolo
No Luminescent Inlay
No Compound Radius Fretboard
No 21:1 Tuner Ratio
No Strap Lock
Compare

Player Feedback
Neck profile shape:

Baseball / U (1 vote)

Neck speed (thickness):

Slightly chunky (1 vote)
Own it? Share your opinion
From Gibson Custom's 2022 Murphy Lab series
Made in United States
6 strings
24.75"'' scale
12" Fretboard Radius
1-Piece Lightweight Mahogany body
Mahogany neck
Indian Rosewood fretboard
Bridge pickup: Custom Soapbar P90 (Single Coil/Passive)
2 volume and 2 tone Bell knobs
3-way Switch
No-Wire ABR-1 bridge
50s Rounded Medium C Set neck
22 Narrow Tall frets
Kluson Single Line, Single Ring tuners
Strengths & Weaknesses


Gibson Custom 1956 Les Paul Goldtop Ultra Light Aged
Made in United States
Expensive Wood
Nylon Nut
Top Brand Pickups
Cheap Fret Wire (NS)
No Locking Tuners
No Neck-Through Build
No Push Knob or Extra Switch Option
No Weight Relief
No Tremolo
No Luminescent Inlay
No Compound Radius Fretboard
No 21:1 Tuner Ratio
No Strap Lock
All Prices
From Gibson Custom's 2022 Historic Collection series
Made in United States
6 strings
24.75"'' scale
12" Fretboard Radius
Alder body
Mahogany neck
Indian Rosewood fretboard
Bridge pickup: Custom Soapbar P90 (Single Coil/Passive)
2 volume and 2 tone Bell knobs
3-way Switch
Wraparound bridge
C-profile Set neck
22 Narrow Tall frets
Kluson Six In-Line with Cream Buttons tuners
Strengths & Weaknesses


Gibson Custom Theodore
Made in United States
Expensive Wood
Nylon Nut
Top Brand Pickups
Cheap Fret Wire (NS)
No Locking Tuners
No Neck-Through Build
No Push Knob or Extra Switch Option
No Weight Relief
No Tremolo
No Luminescent Inlay
No Compound Radius Fretboard
No 21:1 Tuner Ratio
No Strap Lock
All Prices
Compare

Player Feedback
Neck profile shape:

Baseball / U (1 vote)

Neck speed (thickness):

Slightly chunky (1 vote)
Own it? Share your opinion
From Gibson Custom's 2022 Historic Collection series
Made in United States
6 strings
24.75"'' scale
12" Fretboard Radius
1-Piece Lightweight Mahogany body
Mahogany neck
Indian Rosewood fretboard
Bridge pickup: Custom Soapbar P90 (Single Coil/Passive)
2 volume and 2 tone Bell knobs
3-way Switch
No-Wire ABR-1 bridge
50s Rounded Medium C Set neck
22 Narrow Tall frets
Kluson Single Line, Single Ring tuners
Strengths & Weaknesses


Gibson Custom 1956 Les Paul Goldtop Reissue
Made in United States
Expensive Wood
Nylon Nut
Top Brand Pickups
Cheap Fret Wire (NS)
No Locking Tuners
No Neck-Through Build
No Push Knob or Extra Switch Option
No Weight Relief
No Tremolo
No Luminescent Inlay
No Compound Radius Fretboard
No 21:1 Tuner Ratio
No Strap Lock
All Prices
Compare
Player Feedback
Neck profile shape:

Baseball / U (1 vote)

Neck speed (thickness):

Slightly chunky (1 vote)
Own it? Share your opinion
From Gibson Custom's 2022 Historic Collection series
Made in United States
6 strings
24.75"'' scale
12" Fretboard Radius
1-Piece Lightweight Mahogany body
Mahogany neck
Indian Rosewood fretboard
Bridge pickup: Custom Soapbar P90 (Single Coil/Passive)
2 volume and 2 tone Speed knobs
3-way Switch
Wraparound bridge
50s Rounded Medium C Set neck
22 Narrow Tall frets
Kluson Single Line, Single Ring tuners
Strengths & Weaknesses


Gibson Custom 1954 Les Paul Goldtop Reissue
Made in United States
Expensive Wood
Nylon Nut
Top Brand Pickups
Cheap Fret Wire (NS)
No Locking Tuners
No Neck-Through Build
No Push Knob or Extra Switch Option
No Weight Relief
No Tremolo
No Luminescent Inlay
No Compound Radius Fretboard
No 21:1 Tuner Ratio
No Strap Lock
All Prices
Compare

From Reverend's 2021 Signature series
Made in South Korea
6 strings
24.75"'' scale
12" Fretboard Radius
Korina body
Three-Piece Korina neck
Ebony fretboard
Bridge pickup: Fishman Gristle 90's (Single Coil/Passive)
1 volume and 1 tone Dome knobs
3-way Switch
Bigsby B-50 with Roller Bridge bridge
Medium Oval Set neck
22 XL Jumbo frets
Reverend Pin-Lock tuners
Strengths & Weaknesses


Reverend Greg Koch Gristle 90
Locking Tuners
Expensive Wood
Boneite Nut
Top Brand Pickups
Boost Pickups
Tremolo
Cheap Fret Wire (NS)
Made in South Korea
No Neck-Through Build
No Weight Relief
No Luminescent Inlay
No Compound Radius Fretboard
No 21:1 Tuner Ratio
No Strap Lock
All Prices