Best Yamaha Acoustic Guitars in 2023
Here you'll find the best Yamaha acoustic guitars.
Out of the more than 2000 guitars in our database, these are the best scoring ones. You can use our filters to the left to narrow down these results, or click on "Compare" to get a deep comparison between them. Our automated scoring system takes into account the ratings from ours users who own the guitar, and dozens of parameters to determine the build quality, playability, pickups quality, value for money, and more.
There are affiliate links on this page that may earn us a commission if you purchase after clicking. We are members of the Amazon Associates Program, and many others.
Compare
Player Feedback
Neck profile shape:

C (12 votes)

Neck speed (thickness):

Fast (12 votes)

Pickups noise:

Noiseless (3 votes)

Pickups power:

Clean (3 votes)
Own it? Share your opinion
From Yamaha's 2017 A series
Made in Japan
6 strings
25.6"'' scale
15.75" Fretboard Radius
Solid Sitka Spruce A.R.E. w/Scalloped Bracing top
Solid Mahogany back
Solid Mahogany sides
African Mahogany (3-ply) neck
Ebony fretboard
Bridge pickup: SYSTEM71(SRT2 System) + SRT Piezo Pickup (Preamp/Active)
Ebony bridge
Acoustic C Set neck
20 Medium frets
Open Gear Chrome (Gotoh) tuners
Strengths & Weaknesses


Yamaha A5M ARE
Made in Japan
Expensive Wood
Ivory Tusq Nut
Electronics
Ivory Tusq Saddle
Solid Top Wood
Solid Side Wood
Solid Back Wood
Cheap Fret Wire (NS)
No Locking Tuners
No Top Brand Pickups
No Compound Radius Fretboard
No 21:1 Tuner Ratio
No Strap Lock
All Prices
Compare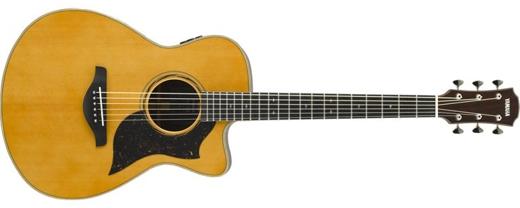 Player Feedback
Neck profile shape:

C (12 votes)

Neck speed (thickness):

Fast (12 votes)

Pickups noise:

Noiseless (3 votes)

Pickups power:

Clean (3 votes)
Own it? Share your opinion
From Yamaha's 2017 A series
Made in Japan
6 strings
25.6"'' scale
15.75" Fretboard Radius
Solid Sitka Spruce A.R.E. w/Scalloped Bracing top
Solid Rosewood back
Solid Rosewood sides
African Mahogany (3-ply) neck
Ebony fretboard
Bridge pickup: SYSTEM71(SRT2 System) + SRT Piezo Pickup (Preamp/Active)
Ebony bridge
Acoustic C Set neck
20 Medium frets
Open Gear Chrome (Gotoh) tuners
Strengths & Weaknesses


Yamaha AC5R ARE
Made in Japan
Expensive Wood
Ivory Tusq Nut
Electronics
Ivory Tusq Saddle
Solid Top Wood
Solid Side Wood
Solid Back Wood
Cheap Fret Wire (NS)
No Locking Tuners
No Top Brand Pickups
No Compound Radius Fretboard
No 21:1 Tuner Ratio
No Strap Lock
All Prices
Compare
Player Feedback
Neck access to high frets:

Easy (2 votes)

Fret edges:

Smooth (2 votes)

Tuning stability:

Holds tune well (2 votes)

Weight:

Lightweight (2 votes)

Neck profile shape:

C (12 votes)

Neck speed (thickness):

Fast (12 votes)

Pickups noise:

Noiseless (3 votes)

Pickups power:

Clean (3 votes)
Own it? Share your opinion
From Yamaha's 2017 A series
Made in Japan
6 strings
25.6"'' scale
15.75" Fretboard Radius
Solid Sitka Spruce A.R.E. w/Scalloped Bracing top
Solid Rosewood back
Solid Rosewood sides
African Mahogany (3-ply) neck
Ebony fretboard
Bridge pickup: SYSTEM71(SRT2 System) + SRT Piezo Pickup (Preamp/Active)
Ebony bridge
Acoustic C Set neck
20 Medium frets
Open Gear Chrome (Gotoh) tuners
Strengths & Weaknesses


Yamaha A5R ARE
Made in Japan
Expensive Wood
Ivory Tusq Nut
Electronics
Ivory Tusq Saddle
Solid Top Wood
Solid Side Wood
Solid Back Wood
Cheap Fret Wire (NS)
No Locking Tuners
No Top Brand Pickups
No Compound Radius Fretboard
No 21:1 Tuner Ratio
No Strap Lock
All Prices
Compare

Player Feedback
Neck profile shape:

C (12 votes)

Neck speed (thickness):

Fast (12 votes)

Pickups noise:

Noiseless (3 votes)

Pickups power:

Clean (3 votes)
Own it? Share your opinion
From Yamaha's 2017 A series
Made in Japan
6 strings
25.6"'' scale
15.75" Fretboard Radius
Solid Sitka Spruce A.R.E. w/Scalloped Bracing top
Solid Mahogany back
Solid Mahogany sides
African Mahogany (3-ply) neck
Ebony fretboard
Bridge pickup: SYSTEM71(SRT2 System) + SRT Piezo Pickup (Preamp/Active)
Ebony bridge
Acoustic C Set neck
20 Medium frets
Open Gear Chrome (Gotoh) tuners
Strengths & Weaknesses


Yamaha AC5M ARE
Made in Japan
Expensive Wood
Ivory Tusq Nut
Electronics
Ivory Tusq Saddle
Solid Top Wood
Solid Side Wood
Solid Back Wood
Cheap Fret Wire (NS)
No Locking Tuners
No Top Brand Pickups
No Compound Radius Fretboard
No 21:1 Tuner Ratio
No Strap Lock
All Prices
Compare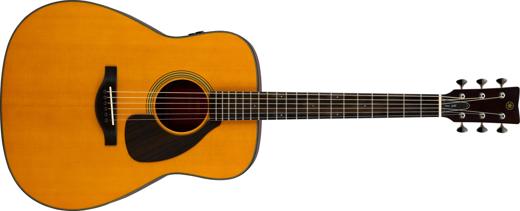 Player Feedback
Neck access to high frets:

Easy (2 votes)

Fret edges:

Smooth (1 vote)

Tuning stability:

Holds tune well (2 votes)

Weight:

Lightweight (3 votes)

Neck profile shape:

C (12 votes)

Neck speed (thickness):

Fast (12 votes)
Own it? Share your opinion
From Yamaha's 2019 FG/FS Red Label series
Made in Japan
6 strings
25"'' scale
15.75" Fretboard Radius
Solid Sitka Spruce top
Solid Mahogany back
Solid Mahogany sides
African Mahogany neck
Ebony fretboard
Bridge pickup: Atmosfeel (Undersaddle Pickup + Contact Sensor + Mic) (Preamp/Active)
Ebony bridge
Acoustic C Set neck
20 Medium frets
Open-Gear Chrome (Y1D) tuners
Strengths & Weaknesses


Yamaha FGX5
Made in Japan
Expensive Wood
Bone Nut
Electronics
Bone Saddle
Solid Top Wood
Solid Side Wood
Solid Back Wood
Cheap Fret Wire (NS)
No Locking Tuners
No Top Brand Pickups
No Compound Radius Fretboard
No 21:1 Tuner Ratio
No Strap Lock
All Prices
Compare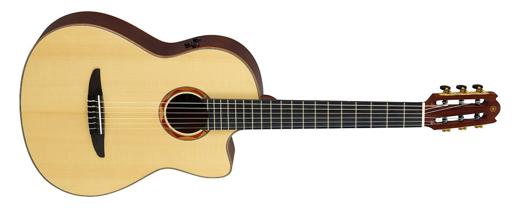 From Yamaha's 2020 NX series
Made in Japan
6 strings
25.6"'' scale
Flat Fretboard Radius
Solid European Spruce top
Solid Walnut back
Solid Walnut sides
African Mahogany neck
Ebony fretboard
Bridge pickup: Atmosfeel (Undersaddle Pickup + Contact Sensor + Mic) (Preamp/Active)
Ebony + Walnut bridge
Acoustic C Set neck
20 Medium frets
Gold w/ Black Shaft (35G1800-BB) tuners
Strengths & Weaknesses


Yamaha NCX5
Made in Japan
Expensive Wood
Bone Nut
Electronics
Bone Saddle
Solid Top Wood
Solid Side Wood
Solid Back Wood
Cheap Fret Wire (NS)
No Locking Tuners
No Top Brand Pickups
No Compound Radius Fretboard
No 21:1 Tuner Ratio
No Strap Lock
All Prices
Compare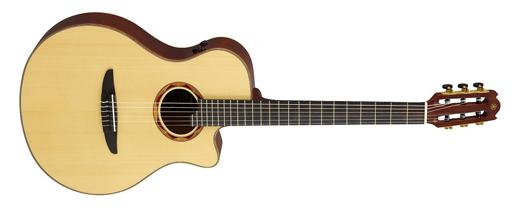 From Yamaha's 2020 NX series
Made in Japan
6 strings
25.6"'' scale
23.622" Fretboard Radius
Solid European Spruce top
Solid Walnut back
Solid Walnut sides
African Mahogany neck
Ebony fretboard
Bridge pickup: Atmosfeel (Undersaddle Pickup + Contact Sensor + Mic) (Preamp/Active)
Ebony + Walnut bridge
Acoustic C Set neck
20 Medium frets
Gold w/ Black Shaft (35G1800-BB) tuners
Strengths & Weaknesses


Yamaha NTX5
Made in Japan
Expensive Wood
Bone Nut
Electronics
Bone Saddle
Solid Top Wood
Solid Side Wood
Solid Back Wood
Cheap Fret Wire (NS)
No Locking Tuners
No Top Brand Pickups
No Compound Radius Fretboard
No 21:1 Tuner Ratio
No Strap Lock
All Prices
Compare
From Yamaha's 2014 L series
Made in Japan
6 strings
25.6"'' scale
15.75" Fretboard Radius
Solid Engelmann Spruce A.R.E. top
Solid Indian Rosewood back
Solid Indian Rosewood sides
Mahogany + Rosewood (5-Ply) neck
Ebony fretboard
Bridge pickup: (/)
Ebony bridge
Acoustic C Set neck
20 Medium frets
Die-Cast Gold (SG301-Y22) tuners
Strengths & Weaknesses


Yamaha LS36 ARE
Made in Japan
Expensive Wood
Bone Nut
Bone Saddle
Solid Top Wood
Solid Side Wood
Solid Back Wood
Cheap Fret Wire (NS)
No Locking Tuners
No Top Brand Pickups
No Electronics
No Compound Radius Fretboard
No 21:1 Tuner Ratio
No Strap Lock
All Prices
Compare
From Yamaha's 2014 L series
Made in Japan
6 strings
25.6"'' scale
15.75" Fretboard Radius
Solid Engelmann Spruce A.R.E. top
Solid Indian Rosewood back
Solid Indian Rosewood sides
Mahogany + Rosewood (5-Ply) neck
Ebony fretboard
Bridge pickup: (/)
Ebony bridge
Acoustic C Set neck
20 Medium frets
Die-Cast Gold (TM67G-Y22) tuners
Strengths & Weaknesses


Yamaha LS56 Custom ARE
Made in Japan
Expensive Wood
Bone Nut
Bone Saddle
Solid Top Wood
Solid Side Wood
Solid Back Wood
Cheap Fret Wire (NS)
No Locking Tuners
No Top Brand Pickups
No Electronics
No Compound Radius Fretboard
No 21:1 Tuner Ratio
No Strap Lock
All Prices
Compare
From Yamaha's 2014 L series
Made in Japan
6 strings
25.6"'' scale
15.75" Fretboard Radius
Solid Engelmann Spruce A.R.E. top
Solid Indian Rosewood back
Solid Indian Rosewood sides
Mahogany + Rosewood (5-Ply) neck
Ebony fretboard
Bridge pickup: (/)
Ebony bridge
Acoustic C Set neck
20 Medium frets
Die-Cast Gold (SG301-Y22) tuners
Strengths & Weaknesses


Yamaha LL36 ARE
Made in Japan
Expensive Wood
Bone Nut
Bone Saddle
Solid Top Wood
Solid Side Wood
Solid Back Wood
Cheap Fret Wire (NS)
No Locking Tuners
No Top Brand Pickups
No Electronics
No Compound Radius Fretboard
No 21:1 Tuner Ratio
No Strap Lock
All Prices