Best Electric Guitars for Big Hands in 2023
Here you'll find the best guitars you can buy if you got big hands. If you have big hands, you probably need a chunky neck to give you better support. You might also want a larger scale and wider nut, but this ultimately comes down to personal preference. Here are some we recommend.
Out of the more than 2000 guitars in our database, these are the best scoring ones. You can use our filters to the left to narrow down these results, or click on "Compare" to get a deep comparison between them. Our automated scoring system takes into account the ratings from ours users who own the guitar, and dozens of parameters to determine the build quality, playability, pickups quality, value for money, and more.
There are affiliate links on this page that may earn us a commission if you purchase after clicking. We are members of the Amazon Associates Program, and many others.
From Strandberg's 2021 The Boden+ NX True Temperament series
Made in Indonesia
8 strings
28" to 26.5"'' scale
16" to 20" Fretboard Radius
Flame Maple top
American Basswood body
Roasted Maple, Carbon Fiber reinforced neck
Richlite Black fretboard
Bridge pickup: Fishman Fluence Modern Ceramic, Black Plastic Cover (Humbucker/Active)
Neck pickup: Fishman Fluence Modern Alnico, Black Plastic Cover (Humbucker/Active)
1 volume and 1 tone Dome knobs
3-way Switch
Strandberg EGS Series 7 fixed & string locks bridge
EndurNeck Bolt-On neck
24 Medium Jumbo Stainless Steel frets
At bridge tuners
Strengths & Weaknesses


Strandberg Boden+ NX 8 True Temperament Twilight Purple
Stainless Steel Frets
Locking Nut
Top Brand Pickups
Coil Tap Pickups
Weight Relief
Luminescent Inlay
Compound Radius Fretboard
No Locking Tuners
Made in Indonesia
No Expensive Woods
No Neck-Through Build
No Tremolo
No 21:1 Tuner Ratio
No Retainer Bar
No Strap Lock
All Prices
Compare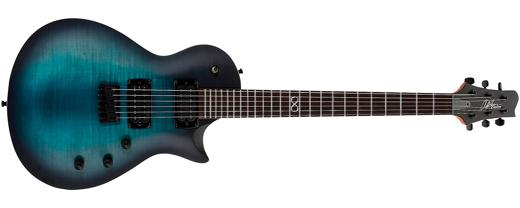 Player Feedback
Neck access to high frets:

Easy (2 votes)

Fret edges:

Smooth (2 votes)

Tuning stability:

Holds tune well (2 votes)

Weight:

Lightweight (2 votes)

Neck profile shape:

C (8 votes)

Neck speed (thickness):

Balanced (6 votes)

Pickups noise:

Noiseless (7 votes)

Pickups power:

Slightly Hot (7 votes)
Own it? Share your opinion
From Chapman's 2022 Pro series
Made in South Korea
6 strings
25.5"'' scale
12" Fretboard Radius
Flame Maple Veneer On Maple Carved Top, Satin Finish top
Mahogany body
Roasted Maple – Dark Colour neck
Macassar Ebony fretboard
Bridge pickup: Seymour Duncan Pegasus (Humbucker/Passive)
Neck pickup: Seymour Duncan Sentient (Humbucker/Passive)
2 volume and 1 tone Dome knobs
3-way Switch
Chapman String Through hardtail bridge
C Shape Neck-Through neck
24 Jumbo Stainless Steel frets
Hipshot Grip-Lock Open (18:1 Gearing) tuners
Strengths & Weaknesses


Chapman ML2 Pro
Stainless Steel Frets
Locking Tuners
Expensive Wood
Black Tusq XL Nut
Top Brand Pickups
Neck-Through Build
Coil Split Pickups
Luminescent Inlay
Strap Lock
Made in South Korea
No Weight Relief
No Tremolo
No Compound Radius Fretboard
No 21:1 Tuner Ratio
All Prices
From Jackson's 2016 Artist Signature series
Made in United States
6 strings
25.5"'' scale
12" to 16" Fretboard Radius
Caramelized Mahogany body
Quartersawn Caramelized Flame Maple neck
Caramelized Flame Maple fretboard
Bridge pickup: DiMarzio Super 3 DP152 (Humbucker/Passive)
Middle pickup: DiMarzio HS-2 DP116 (Single Coil/Passive)
Neck pickup: PC1 Sustainer Driver (Single Coil/Active)
1 volume and 1 tone Dome knobs
5-way Switch
Floyd Rose Original Double-Locking Tremolo bridge
Phil Collen PC1 Bolt-On neck
24 Jumbo frets
Jackson Sealed Die-Cast tuners
Strengths & Weaknesses


Jackson USA Signature Phil Collen PC1 Matte
Made in United States
Expensive Wood
Locking Nut
Top Brand Pickups
Sustainer Pickups
Tremolo
Compound Radius Fretboard
Cheap Fret Wire (NS)
No Locking Tuners
No Neck-Through Build
No Weight Relief
No Luminescent Inlay
No 21:1 Tuner Ratio
No Retainer Bar
No Strap Lock
All Prices
From Jackson's 2016 Artist Signature series
Made in United States
6 strings
25.5"'' scale
12" to 16" Fretboard Radius
1/8 Quilt Maple top
Caramelized Mahogany body
Quartersawn Caramelized Flame Maple neck
Caramelized Flame Maple fretboard
Bridge pickup: DiMarzio Super 3 DP152 (Humbucker/Passive)
Middle pickup: DiMarzio HS-2 DP116 (Single Coil/Passive)
Neck pickup: PC1 Sustainer Driver (Single Coil/Active)
1 volume and 1 tone Dome knobs
5-way Switch
Floyd Rose Original Double-Locking Tremolo bridge
Phil Collen PC1 Bolt-On neck
24 Jumbo frets
Jackson Sealed Die-Cast tuners
Strengths & Weaknesses


Jackson USA Signature Phil Collen PC1 Satin Stain
Made in United States
Expensive Wood
Locking Nut
Top Brand Pickups
Sustainer Pickups
Tremolo
Compound Radius Fretboard
Cheap Fret Wire (NS)
No Locking Tuners
No Neck-Through Build
No Weight Relief
No Luminescent Inlay
No 21:1 Tuner Ratio
No Retainer Bar
No Strap Lock
All Prices
Compare

Player Feedback
Neck access to high frets:

Easy (1 vote)

Fret edges:

Smooth (1 vote)

Tuning stability:

Holds tune well (1 vote)

Weight:

Lightweight (1 vote)

Neck profile shape:

C (8 votes)

Neck speed (thickness):

Balanced (6 votes)

Pickups noise:

Noiseless (7 votes)

Pickups power:

Slightly Hot (7 votes)
Own it? Share your opinion
From Chapman's 2021 Pro series
Made in South Korea
6 strings
25.5"'' scale
13.78" Fretboard Radius
Basswood body
Roasted Maple – Dark Colour neck
Roasted Maple – Dark Colour fretboard
Bridge pickup: Seymour Duncan Pegasus (Humbucker/Passive)
Neck pickup: Seymour Duncan Sentient (Humbucker/Passive)
1 volume and 1 tone Dome knobs
5-way Switch
Chapman String Through hardtail bridge
C Shape Neck-Through neck
24 Jumbo Stainless Steel frets
Hipshot Grip-Lock Open (18:1 Gearing) tuners
Strengths & Weaknesses


Chapman ML3 Pro Modern
Stainless Steel Frets
Locking Tuners
Black Tusq XL Nut
Top Brand Pickups
Neck-Through Build
Luminescent Inlay
Strap Lock
Made in South Korea
No Expensive Woods
No Push Knob or Extra Switch Option
No Weight Relief
No Tremolo
No Compound Radius Fretboard
No 21:1 Tuner Ratio
All Prices
Compare

Player Feedback
Neck access to high frets:

Easy (2 votes)

Fret edges:

Smooth (2 votes)

Tuning stability:

Not bad (1 vote)

Weight:

Slightly heavy (1 vote)

Neck profile shape:

C (8 votes)

Neck speed (thickness):

Balanced (6 votes)

Pickups noise:

Noiseless (7 votes)

Pickups power:

Slightly Hot (7 votes)
Own it? Share your opinion
From Chapman's 2021 Pro series
Made in South Korea
6 strings
25.5"'' scale
13.78" Fretboard Radius
Ash body
Roasted Maple – Dark Colour neck
Roasted Maple fretboard
Bridge pickup: Seymour Duncan Pegasus (Humbucker/Passive)
Neck pickup: Seymour Duncan Sentient (Humbucker/Passive)
1 volume and 1 tone Dome knobs
5-way Switch
Chapman String Through hardtail bridge
C Shape Neck-Through neck
24 Jumbo Stainless Steel frets
Hipshot Grip-Lock Open (18:1 Gearing) tuners
Strengths & Weaknesses


Chapman ML1 Pro Modern
Stainless Steel Frets
Locking Tuners
Expensive Wood
Black Tusq XL Nut
Top Brand Pickups
Neck-Through Build
Luminescent Inlay
Strap Lock
Made in South Korea
No Push Knob or Extra Switch Option
No Weight Relief
No Tremolo
No Compound Radius Fretboard
No 21:1 Tuner Ratio
All Prices
From Ibanez's 2019 AT series
Made in Japan
6 strings
25.5"'' scale
12" Fretboard Radius
Alder body
1pc Roasted Maple neck
Roasted Maple fretboard
Bridge pickup: DiMarzio The Cruiser (Humbucker/Passive)
Middle pickup: DiMarzio The Cruiser (Humbucker/Passive)
Neck pickup: DiMarzio The Cruiser (Humbucker/Passive)
1 volume and 2 tone Bell knobs
5-way Switch
Wilkinson-Gotoh VSVG tremolo bridge
ATZ Bolt-On neck
22 Jumbo Stainless Steel frets
Gotoh Magnum Lock machine heads w/H.A.P. tuners
Strengths & Weaknesses


Ibanez ATZ100
Stainless Steel Frets
Locking Tuners
Made in Japan
Bone Nut
Top Brand Pickups
Tremolo
No Expensive Woods
No Neck-Through Build
No Push Knob or Extra Switch Option
No Weight Relief
No Luminescent Inlay
No Compound Radius Fretboard
No 21:1 Tuner Ratio
No Strap Lock
All Prices
Compare

Player Feedback
Neck access to high frets:

Easy (1 vote)

Fret edges:

Smooth (1 vote)

Tuning stability:

Won't get out of tune (1 vote)

Weight:

Lightweight (1 vote)

Neck profile shape:

D (7 votes)

Neck speed (thickness):

Fast (6 votes)

Pickups noise:

Noiseless (1 vote)

Pickups power:

Hot (2 votes)
Own it? Share your opinion
From Fender's 2021 American Ultra series
Made in United States
6 strings
25.5"'' scale
10" to 14" Fretboard Radius
Alder body
Maple neck
Maple fretboard
Bridge pickup: Fender Custom Double Tap Humbucking (Humbucker/Passive)
Neck pickup: Fender Custom Double Tap Humbucking (Humbucker/Passive)
1 volume and 1 tone Dome knobs
3-way Switch
Floyd Rose Original Double-Locking 2-Point Tremolo bridge
Augmented "D" Bolt-On neck
22 Medium Jumbo Stainless Steel frets
Deluxe Cast/Sealed Locking tuners
Strengths & Weaknesses


Fender American Ultra Luxe Telecaster Floyd Rose HH
Stainless Steel Frets
Locking Tuners
Made in United States
Locking Nut
Top Brand Pickups
S-1 Switch Pickups
Tremolo
Compound Radius Fretboard
No Expensive Woods
No Neck-Through Build
No Weight Relief
No Luminescent Inlay
No 21:1 Tuner Ratio
No Retainer Bar
No Strap Lock
All Prices
Compare

Player Feedback
Neck profile shape:

D (7 votes)

Neck speed (thickness):

Fast (6 votes)

Pickups noise:

Noiseless (6 votes)

Pickups power:

Slightly Hot (5 votes)
Own it? Share your opinion
From Fender's 2021 American Ultra series
Made in United States
6 strings
25.5"'' scale
10" to 14" Fretboard Radius
Alder body
Maple neck
Rosewood fretboard
Bridge pickup: Fender Ultra Double Tap Humbucking (Humbucker/Passive)
Middle pickup: Fender Ultra Noiseless™ Hot Strat (Single Coil/Passive)
Neck pickup: Fender Ultra Noiseless™ Hot Strat (Single Coil/Passive)
1 volume and 2 tone Bell knobs
5-way Switch
Floyd Rose Original Double-Locking 2-Point Tremolo bridge
Augmented "D" Bolt-On neck
22 Medium Jumbo Stainless Steel frets
Deluxe Staggered Cast/Sealed Locking tuners
Strengths & Weaknesses


Fender American Ultra Luxe Stratocaster Floyd Rose HSS
Stainless Steel Frets
Locking Tuners
Made in United States
Expensive Wood
Locking Nut
Top Brand Pickups
S-1 Switch Pickups
Tremolo
Compound Radius Fretboard
No Neck-Through Build
No Weight Relief
No Luminescent Inlay
No 21:1 Tuner Ratio
No Retainer Bar
No Strap Lock
All Prices
Compare

Player Feedback
Neck profile shape:

C (8 votes)

Neck speed (thickness):

Balanced (6 votes)

Pickups noise:

Noiseless (2 votes)

Pickups power:

Slightly Hot (1 vote)
Own it? Share your opinion
From Chapman's 2021 Signature series
Made in South Korea
6 strings
28"'' scale
13.78" Fretboard Radius
Poplar Burl Solid Flat Top with Satin Finish top
Alder body
Wenge neck
Wenge fretboard
Bridge pickup: Bare Knuckle Silo Rabea Signature Humbucker (Humbucker/Passive)
Neck pickup: Seymour Duncan SL59 (Humbucker/Passive)
1 volume and 1 tone Dome knobs
5-way Switch
Hipshot 41060 Hardtail bridge
C Shape Bolt-On neck
22 Jumbo Stainless Steel frets
Hipshot Grip-Lock Open (18:1 Gearing) tuners
Strengths & Weaknesses


Chapman ML3 Pro BEA Baritone
Stainless Steel Frets
Locking Tuners
Black Tusq XL Nut
Top Brand Pickups
Luminescent Inlay
Strap Lock
Made in South Korea
No Expensive Woods
No Neck-Through Build
No Push Knob or Extra Switch Option
No Weight Relief
No Tremolo
No Compound Radius Fretboard
No 21:1 Tuner Ratio
All Prices