Best Guitars With H Configuration in 2023
Here you'll find the best guitars with H configuration. A single humbucking pickup will give you all the space you need for picking, and it might give you a bit more sustain since less magnetic fields are messing with the strings' vibrations. However, you won't have the same versatility as with other guitars with more pickups. It's recommended if you want to use it mainly for high-output riffs.
Out of the more than 2000 guitars in our database, these are the best ones with these features, according to our algorithm. You can use our filters to the left to see only the exact types of guitar you want. You can also click on "Compare" to get a deep spec comparison between two guitars of your choice. This list is updated daily automatically as we add new guitars to our database. We'll show you first the best ones according to our automated scoring system, which takes into account dozens of parameters to determine the build quality, playability, pickups quality, value for money and more.
There are affiliate links on this page that may earn us a commission if you purchase after clicking. We are members of the Amazon Associates Program, and many others.
Compare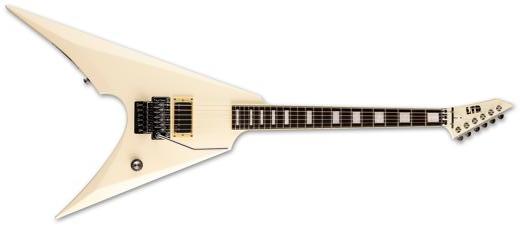 FIND IT ON:

From ESP LTD's 2021 Signature series
Made in Indonesia
6 strings
24.75"'' scale
13.78" Fretboard Radius
Mahogany w/ Maple Cap body
3Pc Mahogany neck
Macassar Ebony fretboard
Bridge pickup: EMG JH James Hetfield (Humbucker/Active)
Bridge pickup: EMG JH James Hetfield (Humbucker/Active)
1 volume and 0 tone Bell knobs
Floyd Rose 1000 bridge
Thin U Neck-Through neck
24 XL Jumbo Stainless Steel frets
Grover tuners
Price Comparison
Strengths & Weaknesses


ESP LTD MSV-1
Stainless Steel Frets
Expensive Wood
Locking Nut
Top Brand Pickups
Neck-Through Build
Tremolo
No Locking Tuners
Made in Indonesia
No Push Knob or Extra Switch Option
No Weight Relief
No Luminescent Inlay
No Compound Radius Fretboard
No 21:1 Tuner Ratio
No Retainer Bar
No Strap Lock
Compare

Player Feedback
Neck profile shape:

C (3 votes)

Neck speed (thickness):

Fast (4 votes)

Pickups noise:

Noiseless (2 votes)

Pickups power:

Clean (3 votes)
Own it? Share your opinion
FIND IT ON:
From ESP LTD's 2021 Black Metal series
Made in Indonesia
6 strings
25.5"'' scale
13.78" Fretboard Radius
Mahogany body
3pc Maple neck
Macassar Ebony fretboard
Bridge pickup: EMG 81 (Humbucker/Active)
Bridge pickup: EMG 81 (Humbucker/Active)
1 volume and 0 tone Dome knobs
Floyd Rose 1000 bridge
Extra Thin U Neck-Through neck
24 XL Jumbo Stainless Steel frets
Grover tuners
Price Comparison
Strengths & Weaknesses


ESP LTD F Black Metal
Stainless Steel Frets
Expensive Wood
Locking Nut
Top Brand Pickups
Neck-Through Build
Killswitch Pickups
Tremolo
Luminescent Inlay
No Locking Tuners
Made in Indonesia
No Weight Relief
No Compound Radius Fretboard
No 21:1 Tuner Ratio
No Retainer Bar
No Strap Lock
Compare
Player Feedback
Neck profile shape:

C (3 votes)

Neck speed (thickness):

Fast (4 votes)

Pickups noise:

Slightly Noisy (2 votes)

Pickups power:

Hot (3 votes)
Own it? Share your opinion
FIND IT ON:
From ESP LTD's 2022 F series
Made in Indonesia
6 strings
25.5"'' scale
12" to 16" Fretboard Radius
Mahogany body
3pc Maple neck
Macassar Ebony fretboard
Bridge pickup: EMG 81TW (Humbucker/Active)
Bridge pickup: EMG 81TW (Humbucker/Active)
1 volume and 0 tone Dome knobs
Floyd Rose 1000SE bridge
Extra Thin U Set neck
24 XL Jumbo Stainless Steel frets
Grover tuners
Price Comparison
Strengths & Weaknesses


ESP LTD F-1001
Stainless Steel Frets
Expensive Wood
Locking Nut
Top Brand Pickups
Coil Split Pickups
Tremolo
Compound Radius Fretboard
No Locking Tuners
Made in Indonesia
No Neck-Through Build
No Weight Relief
No Luminescent Inlay
No 21:1 Tuner Ratio
No Retainer Bar
No Strap Lock
Compare
Player Feedback
Neck profile shape:

C (1 vote)

Neck speed (thickness):

Fast (1 vote)

Pickups noise:

Noiseless (2 votes)

Pickups power:

Clean (3 votes)
Own it? Share your opinion
FIND IT ON:

From ESP E-II's 2021 M series
Made in Japan
6 strings
25.5"'' scale
12" Fretboard Radius
Alder body
3pc Maple neck
Ebony fretboard
Bridge pickup: EMG 81 (Humbucker/Active)
Bridge pickup: EMG 81 (Humbucker/Active)
1 volume and 0 tone Dome knobs
Gotoh TOM bridge
Thin U Neck-Through neck
24 XL Jumbo frets
Gotoh Locking tuners
Price Comparison
Strengths & Weaknesses


ESP E-II M-I Thru NT
Locking Tuners
Made in Japan
Expensive Wood
Bone Nut
Top Brand Pickups
Neck-Through Build
Strap Lock
Cheap Fret Wire (NS)
No Push Knob or Extra Switch Option
No Weight Relief
No Tremolo
No Luminescent Inlay
No Compound Radius Fretboard
No 21:1 Tuner Ratio
Compare
Player Feedback
Neck profile shape:

C (3 votes)

Neck speed (thickness):

Fast (4 votes)

Pickups noise:

Slightly Noisy (2 votes)

Pickups power:

Hot (3 votes)
Own it? Share your opinion
FIND IT ON:
From ESP LTD's 2021 Arctic Metal series
Made in Indonesia
6 strings
25.5"'' scale
13.78" Fretboard Radius
Alder body
3pc Maple neck
Macassar Ebony fretboard
Bridge pickup: EMG 81TW (Humbucker/Active)
Bridge pickup: EMG 81TW (Humbucker/Active)
1 volume and 0 tone Dome knobs
Hipshot w/ String Thru bridge
Extra Thin U Neck-Through neck
24 XL Jumbo Stainless Steel frets
LTD Locking tuners
Price Comparison
Strengths & Weaknesses


ESP LTD M-HT Arctic Metal
Stainless Steel Frets
Locking Tuners
Expensive Wood
Top Brand Pickups
Neck-Through Build
Coil Split Pickups
Luminescent Inlay
Made in Indonesia
No High-Quality Nut
No Weight Relief
No Tremolo
No Compound Radius Fretboard
No 21:1 Tuner Ratio
No Strap Lock
Compare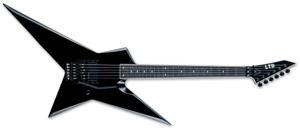 FIND IT ON:

From ESP LTD's 2022 Signature series
Made in Indonesia
6 strings
24.75"'' scale
13.78" Fretboard Radius
Mahogany body
3Pc Mahogany neck
Macassar Ebony fretboard
Bridge pickup: Seymour Duncan Blackouts Metal (Humbucker/Active)
Bridge pickup: Seymour Duncan Blackouts Metal (Humbucker/Active)
1 volume and 0 tone Dome knobs
Floyd Rose 1000 SE bridge
Extra Thin U Neck-Through neck
24 XL Jumbo Stainless Steel frets
LTD tuners
Price Comparison
Strengths & Weaknesses


ESP LTD SD-2
Stainless Steel Frets
Expensive Wood
Locking Nut
Top Brand Pickups
Neck-Through Build
Tremolo
Luminescent Inlay
No Locking Tuners
Made in Indonesia
No Push Knob or Extra Switch Option
No Weight Relief
No Compound Radius Fretboard
No 21:1 Tuner Ratio
No Retainer Bar
No Strap Lock
Compare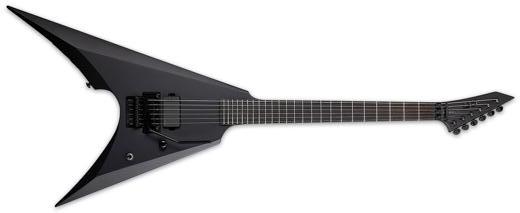 Player Feedback
Neck profile shape:

D (7 votes)

Neck speed (thickness):

Fast (13 votes)

Pickups noise:

Noiseless (2 votes)

Pickups power:

Clean (3 votes)
Own it? Share your opinion
FIND IT ON:

From ESP LTD's 2019 Black Metal series
Made in Indonesia
6 strings
25.5"'' scale
13.78" Fretboard Radius
Mahogany body
3pc Maple neck
Macassar Ebony fretboard
Bridge pickup: EMG 81 (Humbucker/Active)
Bridge pickup: EMG 81 (Humbucker/Active)
1 volume and 0 tone Dome knobs
Floyd Rose 1000 bridge
Thin U Neck-Through neck
24 XL Jumbo frets
Grover tuners
Price Comparison
Strengths & Weaknesses


ESP LTD Arrow Black Metal
Expensive Wood
Locking Nut
Top Brand Pickups
Neck-Through Build
Killswitch Pickups
Tremolo
Luminescent Inlay
Cheap Fret Wire (NS)
No Locking Tuners
Made in Indonesia
No Weight Relief
No Compound Radius Fretboard
No 21:1 Tuner Ratio
No Retainer Bar
No Strap Lock
Compare

Player Feedback
Neck profile shape:

D (7 votes)

Neck speed (thickness):

Fast (13 votes)

Pickups noise:

Slightly Noisy (1 vote)

Pickups power:

Hot (1 vote)
Own it? Share your opinion
FIND IT ON:
From ESP LTD's 2021 Black Metal series
Made in Indonesia
6 strings
24.75"'' scale
13.78" Fretboard Radius
Mahogany body
3Pc Mahogany neck
Macassar Ebony fretboard
Bridge pickup: Seymour Duncan Black Winter (Humbucker/Passive)
Bridge pickup: Seymour Duncan Black Winter (Humbucker/Passive)
1 volume and 0 tone Dome knobs
Floyd Rose 1000 bridge
Thin U Set neck
24 XL Jumbo Stainless Steel frets
Grover tuners
Price Comparison
Strengths & Weaknesses


ESP LTD EC-FR Black Metal
Stainless Steel Frets
Expensive Wood
Locking Nut
Top Brand Pickups
Coil Split Pickups
Tremolo
Luminescent Inlay
No Locking Tuners
Made in Indonesia
No Neck-Through Build
No Weight Relief
No Compound Radius Fretboard
No 21:1 Tuner Ratio
No Retainer Bar
No Strap Lock
Compare
FIND IT ON:

From ESP LTD's 2021 Arctic Metal series
Made in Indonesia
7 strings
27"'' scale
15.75" Fretboard Radius
Alder body
3pc Maple neck
Macassar Ebony fretboard
Bridge pickup: EMG 81-7H TW (Humbucker/Active)
Bridge pickup: EMG 81-7H TW (Humbucker/Active)
1 volume and 0 tone Dome knobs
Hipshot w/ String Thru bridge
Extra Thin U Neck-Through neck
24 XL Jumbo Stainless Steel frets
LTD Locking tuners
Price Comparison
Strengths & Weaknesses


ESP LTD M-7BHT Baritone Arctic Metal
Stainless Steel Frets
Locking Tuners
Expensive Wood
Top Brand Pickups
Neck-Through Build
Coil Split Pickups
Luminescent Inlay
Made in Indonesia
No High-Quality Nut
No Weight Relief
No Tremolo
No Compound Radius Fretboard
No 21:1 Tuner Ratio
No Strap Lock
Compare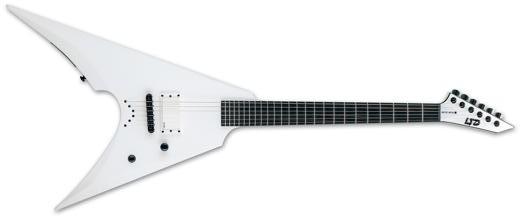 Player Feedback
Neck profile shape:

D (7 votes)

Neck speed (thickness):

Fast (13 votes)

Pickups noise:

Slightly Noisy (2 votes)

Pickups power:

Hot (3 votes)
Own it? Share your opinion
FIND IT ON:
From ESP LTD's 2021 Arctic Metal series
Made in Indonesia
6 strings
25.5"'' scale
13.78" Fretboard Radius
Mahogany body
3pc Maple neck
Macassar Ebony fretboard
Bridge pickup: EMG 81TW (Humbucker/Active)
Bridge pickup: EMG 81TW (Humbucker/Active)
1 volume and 0 tone Dome knobs
Tonepros Locking TOM w/ String Thru bridge
Thin U Neck-Through neck
24 XL Jumbo Stainless Steel frets
LTD Locking tuners
Price Comparison
Strengths & Weaknesses


ESP LTD Arrow-NT Arctic Metal
Stainless Steel Frets
Locking Tuners
Expensive Wood
Top Brand Pickups
Neck-Through Build
Coil Split, Killswitch Pickups
Luminescent Inlay
Made in Indonesia
No High-Quality Nut
No Weight Relief
No Tremolo
No Compound Radius Fretboard
No 21:1 Tuner Ratio
No Strap Lock