Best 24.6" Scale V Style Guitars in 2023
Here you'll find the best 24.6" scale V style guitars. This is similar to some of the Les Paul guitars made in the 50s, and it's slightly shorter than modern Les Pauls (24.75''). Short scales like these make the tone sound more bassy. It also makes the frets closer to each other, and bending is easier due to the lower tension of the strings. However, it comes at the cost of not letting you set the action of the strings as low without hearing fret buzz because the low tension will make the strings looser.
Remember that you can still try a thicker string gauge to increase the tension to let you lower the action.
Out of the more than 2000 guitars in our database, these are the best scoring ones. You can use our filters to the left to narrow down these results, or click on "Compare" to get a deep comparison between them. Our automated scoring system takes into account the ratings from ours users who own the guitar, and dozens of parameters to determine the build quality, playability, pickups quality, value for money, and more.
There are affiliate links on this page that may earn us a commission if you purchase after clicking. We are members of the Amazon Associates Program, and many others.
From Dean's 2019 Artist series
Made in United States
6 strings
24.6"'' scale
12" Fretboard Radius
Mahogany body
3 Piece Maple neck
Ebony fretboard
Bridge pickup: USA DMT Amott Tyrant (Humbucker/Passive)
Neck pickup: USA DMT Time Capsule (Humbucker/Passive)
1 volume and 0 tone Dome knobs
3-way Switch
Tune-O-Matic (String Thru w/Ferrules) bridge
Michael Amott Spec. C Shaped Set neck
22 Jumbo frets
Sperzel Locking tuners
Strengths & Weaknesses


Dean USA Michael Amott Tyrant Burgundy/White
Locking Tuners
Made in United States
Expensive Wood
Ivory Tusq Nut
Top Brand Pickups
Cheap Fret Wire (NS)
No Neck-Through Build
No Push Knob or Extra Switch Option
No Weight Relief
No Tremolo
No Luminescent Inlay
No Compound Radius Fretboard
No 21:1 Tuner Ratio
No Strap Lock
All Prices
Compare
From Dean's 2015 USA series
Made in United States
6 strings
24.6"'' scale
12" Fretboard Radius
Flame Maple top
Mahogany body
Mahogany neck
Ebony fretboard
Bridge pickup: USA DMT Baker Act (Humbucker/Passive)
Neck pickup: USA DMT Nostalgia (Humbucker/Passive)
1 volume and 1 tone Speed knobs
3-way Switch
Floyd Rose Original (German) bridge
V Set neck
22 Jumbo frets
Grover tuners
Strengths & Weaknesses


Dean USA SplitTail Flame Top Floyd
Made in United States
Expensive Wood
Locking Nut
Top Brand Pickups
Tremolo
Cheap Fret Wire (NS)
No Locking Tuners
No Neck-Through Build
No Push Knob or Extra Switch Option
No Weight Relief
No Luminescent Inlay
No Compound Radius Fretboard
No 21:1 Tuner Ratio
No Retainer Bar
No Strap Lock
Compare

From Dean's 2015 Artist series
Made in United States
6 strings
24.6"'' scale
12" Fretboard Radius
Mahogany body
Mahogany neck
Ebony fretboard
Bridge pickup: USA DMT Lights Out (Humbucker/Passive)
Neck pickup: USA DMT Lights Out (Humbucker/Passive)
2 volume and 1 tone Bell knobs
3-way Switch
Tune-O-Matic bridge
V Set neck
22 Jumbo frets
Grover tuners
Strengths & Weaknesses


Dean USA Michael Schenker Standard
Made in United States
Expensive Wood
Ivory Tusq Nut
Top Brand Pickups
Cheap Fret Wire (NS)
No Locking Tuners
No Neck-Through Build
No Push Knob or Extra Switch Option
No Weight Relief
No Tremolo
No Luminescent Inlay
No Compound Radius Fretboard
No 21:1 Tuner Ratio
No Strap Lock
All Prices
Compare

From Dean's 2021 Artist series
Made in United States
6 strings
24.6"'' scale
12" Fretboard Radius
Mahogany body
Mahogany neck
Ebony fretboard
Bridge pickup: USA DMT Lights Out (Humbucker/Passive)
Neck pickup: USA DMT Lights Out (Humbucker/Passive)
2 volume and 1 tone Bell knobs
3-way Switch
Tune-O-Matic (With V Plate) bridge
V Set neck
22 Jumbo frets
Grover tuners
Strengths & Weaknesses


Dean USA Michael Schenker 50th Anniversary
Made in United States
Expensive Wood
Ivory Tusq Nut
Top Brand Pickups
Cheap Fret Wire (NS)
No Locking Tuners
No Neck-Through Build
No Push Knob or Extra Switch Option
No Weight Relief
No Tremolo
No Luminescent Inlay
No Compound Radius Fretboard
No 21:1 Tuner Ratio
No Strap Lock
Compare

From Dean's 2019 USA series
Made in United States
6 strings
24.6"'' scale
12" Fretboard Radius
Mahogany top
Mahogany body
Mahogany neck
Ebony fretboard
Bridge pickup: USA DMT Time Capsule (Humbucker/Passive)
Neck pickup: USA DMT Time Capsule (Humbucker/Passive)
2 volume and 1 tone Speed knobs
3-way Switch
Tune-O-Matic (With V Plate) bridge
V Set neck
22 Jumbo frets
Grover tuners
Strengths & Weaknesses


Dean USA V Standard w/PG Gloss Natural
Made in United States
Expensive Wood
Ivory Tusq Nut
Top Brand Pickups
Cheap Fret Wire (NS)
No Locking Tuners
No Neck-Through Build
No Push Knob or Extra Switch Option
No Weight Relief
No Tremolo
No Luminescent Inlay
No Compound Radius Fretboard
No 21:1 Tuner Ratio
No Strap Lock
From Dean's 2019 USA series
Made in United States
6 strings
24.6"'' scale
12" Fretboard Radius
Flame Maple top
Mahogany body
Mahogany neck
Ebony fretboard
Bridge pickup: DiMarzio Super Distortion DP100 (Humbucker/Passive)
Neck pickup: DiMarzio Super Distortion DP100 (Humbucker/Passive)
2 volume and 1 tone Speed knobs
3-way Switch
Tune-O-Matic (With V Plate) bridge
Patent Pending Spec. C Shaped Set neck
22 Jumbo frets
Vintage Style Grover tuners
Strengths & Weaknesses


Dean USA Patents Pending V Flame Top TCS
Made in United States
Expensive Wood
Bone Nut
Top Brand Pickups
Cheap Fret Wire (NS)
No Locking Tuners
No Neck-Through Build
No Push Knob or Extra Switch Option
No Weight Relief
No Tremolo
No Luminescent Inlay
No Compound Radius Fretboard
No 21:1 Tuner Ratio
No Strap Lock
Compare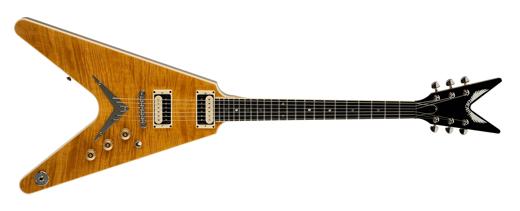 From Dean's 2020 USA series
Made in United States
6 strings
24.6"'' scale
12" Fretboard Radius
Flame Maple top
Mahogany body
Mahogany neck
Ebony fretboard
Bridge pickup: USA DMT Time Capsule (Humbucker/Passive)
Neck pickup: USA DMT Time Capsule (Humbucker/Passive)
2 volume and 1 tone Speed knobs
3-way Switch
Tune-O-Matic (With V Plate) bridge
V Set neck
22 Jumbo frets
Grover tuners
Strengths & Weaknesses


Dean USA Time Capsule V
Made in United States
Expensive Wood
Ivory Tusq Nut
Top Brand Pickups
Cheap Fret Wire (NS)
No Locking Tuners
No Neck-Through Build
No Push Knob or Extra Switch Option
No Weight Relief
No Tremolo
No Luminescent Inlay
No Compound Radius Fretboard
No 21:1 Tuner Ratio
No Strap Lock
All Prices