Best Electric Guitars Made In South Korea in 2023
Here are the top electric guitars made in South Korea . Guitars made here are well-built and tend to have good quality control, even though they focus on mass production. This used to be the most premium option just below Japan or the US, but other countries like Indonesia are becoming great competitors because of even cheaper labor without sacrificing quality.
Out of the more than 2000 guitars in our database, these are the best ones with these features, according to our algorithm. You can use our filters to the left to see only the exact types of guitar you want. You can also click on "Compare" to get a deep spec comparison between two guitars of your choice. This list is updated daily automatically as we add new guitars to our database. We'll show you first the best ones according to our automated scoring system, which takes into account dozens of parameters to determine the build quality, playability, pickups quality, value for money and more.
There are affiliate links on this page that may earn us a commission if you purchase after clicking. We are members of the Amazon Associates Program, and many others.
Compare

Player Feedback
Neck profile shape:

Baseball / U (2 votes)

Neck speed (thickness):

Fast (2 votes)

Pickups noise:

Noiseless (1 vote)

Pickups power:

Slightly Hot (1 vote)
Own it? Share your opinion
FIND IT ON:
From Schecter's 2020 Banshee Mach series
Made in South Korea
6 strings
25.5"'' scale
12" to 16" Fretboard Radius
Flamed Maple top
Swamp Ash body
Roasted Maple/Purpleheart Multi-ply with Carbon Fiber Reinforcement Rods neck
Ebony fretboard
Bridge pickup: Lundgren M6 (Humbucker/Passive)
Neck pickup: Sustainiac (Humbucker/Passive)
1 volume and 1 tone Dome knobs
3-way Switch
Floyd Rose 1500 Series bridge
Ultra Thin U Neck-Through neck
24 XL Jumbo Stainless Steel frets
Grover Rotomatic 18:1 tuners
Price Comparison
Strengths & Weaknesses


Schecter Banshee Mach-6 FR S
Stainless Steel Frets
Expensive Wood
Locking Nut
Top Brand Pickups
Neck-Through Build
Sustainer Pickups
Tremolo
Luminescent Inlay
Compound Radius Fretboard
No Locking Tuners
Made in South Korea
No Weight Relief
No 21:1 Tuner Ratio
No Retainer Bar
No Strap Lock
Compare

FIND IT ON:
From Schecter's 2023 Reaper Elite series
Made in South Korea
6 strings
25.5"'' scale
12" to 16" Fretboard Radius
Quilted Maple Veneer top
Khaya African Mahogany body
Wenge neck
Wenge fretboard
Bridge pickup: Schecter USA San Andreas (Humbucker/Passive)
Neck pickup: Sustainiac (Humbucker/Passive)
1 volume and 1 tone Dome knobs
3-way Switch
Floyd Rose 1500 Series bridge
Ultra Thin C Neck-Through neck
24 XL Jumbo Stainless Steel frets
Grover tuners
Price Comparison
Strengths & Weaknesses


Schecter Reaper-6 FR S Elite
Stainless Steel Frets
Expensive Wood
Locking Nut
Top Brand Pickups
Neck-Through Build
Sustainer Pickups
Tremolo
Luminescent Inlay
Compound Radius Fretboard
No Locking Tuners
Made in South Korea
No Weight Relief
No 21:1 Tuner Ratio
No Retainer Bar
No Strap Lock
Compare

Player Feedback
Neck profile shape:

C (7 votes)

Neck speed (thickness):

Fast (6 votes)

Pickups noise:

Noiseless (9 votes)

Pickups power:

Hot (7 votes)
Own it? Share your opinion
FIND IT ON:
From Schecter's 2018 SLS Elite series
Made in South Korea
6 strings
25.5"'' scale
12" to 16" Fretboard Radius
Swamp Ash body
Maple/Walnut/Padauk Multi-ply w/ Carbon Fiber Reinforcement Rods neck
Ebony fretboard
Bridge pickup: Fishman Fluence Modern Ceramic (Humbucker/Active)
Neck pickup: Sustainiac (Humbucker/Passive)
1 volume and 1 tone Dome knobs
3-way Switch
Floyd Rose 1500 Series bridge
Ultra Thin C Neck-Through neck
24 XL Jumbo Stainless Steel frets
Grover Rotomatic 18:1 tuners
Price Comparison
Strengths & Weaknesses


Schecter C-1 FR S SLS Evil Twin
Stainless Steel Frets
Expensive Wood
Locking Nut
Top Brand Pickups
Neck-Through Build
Multi-Voicing, Sustainer Pickups
Tremolo
Luminescent Inlay
Compound Radius Fretboard
No Locking Tuners
Made in South Korea
No Weight Relief
No 21:1 Tuner Ratio
No Retainer Bar
No Strap Lock
Compare

Player Feedback
Neck profile shape:

C (7 votes)

Neck speed (thickness):

Fast (6 votes)

Pickups noise:

Noiseless (9 votes)

Pickups power:

Hot (7 votes)
Own it? Share your opinion
FIND IT ON:

From Schecter's 2018 SLS Elite series
Made in South Korea
6 strings
25.5"'' scale
12" to 16" Fretboard Radius
Flamed Maple top
Swamp Ash body
Maple/Walnut/Padauk Multi-ply w/ Carbon Fiber Reinforcement Rods neck
Ebony fretboard
Bridge pickup: Fishman Fluence Modern Ceramic (Humbucker/Active)
Neck pickup: Sustainiac (Humbucker/Passive)
1 volume and 1 tone Dome knobs
3-way Switch
Floyd Rose 1500 Series bridge
Ultra Thin C Neck-Through neck
24 XL Jumbo Stainless Steel frets
Grover Rotomatic 18:1 tuners
Price Comparison
Strengths & Weaknesses


Schecter C-1 FR S SLS Elite
Stainless Steel Frets
Expensive Wood
Locking Nut
Top Brand Pickups
Neck-Through Build
Multi-Voicing, Sustainer Pickups
Tremolo
Compound Radius Fretboard
No Locking Tuners
Made in South Korea
No Weight Relief
No Luminescent Inlay
No 21:1 Tuner Ratio
No Retainer Bar
No Strap Lock
Compare

FIND IT ON:

From Schecter's 2020 Banshee Mach series
Made in South Korea
7 strings
26.5"'' scale
12" to 16" Fretboard Radius
Flamed Maple top
Swamp Ash body
Roasted Maple/Purpleheart Multi-ply with Carbon Fiber Reinforcement Rods neck
Ebony fretboard
Bridge pickup: Lundgren M7 (Humbucker/Passive)
Neck pickup: Sustainiac (Humbucker/Passive)
1 volume and 1 tone Dome knobs
3-way Switch
Floyd Rose 1500 Series bridge
Ultra Thin U Neck-Through neck
24 XL Jumbo Stainless Steel frets
Grover Rotomatic 18:1 tuners
Price Comparison
Strengths & Weaknesses


Schecter Banshee Mach-7 FR S
Stainless Steel Frets
Expensive Wood
Locking Nut
Top Brand Pickups
Neck-Through Build
Sustainer Pickups
Tremolo
Luminescent Inlay
Compound Radius Fretboard
No Locking Tuners
Made in South Korea
No Weight Relief
No 21:1 Tuner Ratio
No Retainer Bar
No Strap Lock
Compare
FIND IT ON:
From Schecter's 2023 Reaper Elite series
Made in South Korea
6 strings
25.5"'' scale
12" to 16" Fretboard Radius
Quilted Maple Veneer top
Khaya African Mahogany body
Wenge neck
Ebony fretboard
Bridge pickup: Schecter USA San Andreas (Humbucker/Passive)
Neck pickup: Schecter USA San Andreas (Humbucker/Passive)
1 volume and 1 tone Dome knobs
3-way Switch
Hipshot Ibby HM bridge
Ultra Thin C Neck-Through neck
24 XL Jumbo Stainless Steel frets
Hipshot Grip-Lock tuners
Price Comparison
Strengths & Weaknesses


Schecter Reaper-6 Elite
Stainless Steel Frets
Locking Tuners
Expensive Wood
Black Tusq XL Nut
Top Brand Pickups
Neck-Through Build
Coil Split Pickups
Luminescent Inlay
Compound Radius Fretboard
Made in South Korea
No Weight Relief
No Tremolo
No 21:1 Tuner Ratio
No Strap Lock
Compare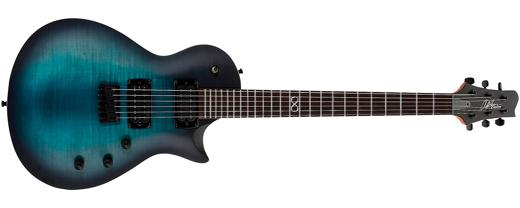 Player Feedback
Neck access to high frets:

Easy (1 vote)

Fret edges:

Smooth (1 vote)

Tuning stability:

Holds tune well (1 vote)

Weight:

Lightweight (1 vote)

Neck profile shape:

C (3 votes)

Neck speed (thickness):

Balanced (2 votes)

Pickups noise:

Noiseless (4 votes)

Pickups power:

Slightly Hot (4 votes)
Own it? Share your opinion
FIND IT ON:
From Chapman's 2022 Pro series
Made in South Korea
6 strings
25.5"'' scale
12" Fretboard Radius
Flame Maple Veneer On Maple Carved Top, Satin Finish top
Mahogany body
Roasted Maple – Dark Colour neck
Macassar Ebony fretboard
Bridge pickup: Seymour Duncan Pegasus (Humbucker/Passive)
Neck pickup: Seymour Duncan Sentient (Humbucker/Passive)
2 volume and 1 tone Dome knobs
3-way Switch
Chapman String Through hardtail bridge
C Shape Neck-Through neck
24 Jumbo Stainless Steel frets
Hipshot Grip-Lock Open (18:1 Gearing) tuners
Price Comparison
Strengths & Weaknesses


Chapman ML2 Pro
Stainless Steel Frets
Locking Tuners
Expensive Wood
Black Tusq XL Nut
Top Brand Pickups
Neck-Through Build
Coil Split Pickups
Luminescent Inlay
Strap Lock
Made in South Korea
No Weight Relief
No Tremolo
No Compound Radius Fretboard
No 21:1 Tuner Ratio
Compare

Player Feedback
Neck profile shape:

C (7 votes)

Neck speed (thickness):

Fast (6 votes)

Pickups noise:

Noiseless (9 votes)

Pickups power:

Hot (7 votes)
Own it? Share your opinion
FIND IT ON:

From Schecter's 2022 SLS Elite series
Made in South Korea
6 strings
25.5"'' scale
12" to 16" Fretboard Radius
Swamp Ash body
Maple/Walnut/Padauk Multi-ply w/ Carbon Fiber Reinforcement Rods neck
Ebony fretboard
Bridge pickup: Fishman Fluence Modern Ceramic (Humbucker/Active)
Neck pickup: Sustainiac (Humbucker/Passive)
1 volume and 1 tone Dome knobs
3-way Switch
Hipshot Hardtail (.125) w/ String Thru Body bridge
Ultra Thin C Neck-Through neck
24 XL Jumbo Stainless Steel frets
Schecter Locking tuners
Price Comparison
Strengths & Weaknesses


Schecter C-1 HT S SLS Elite Evil Twin
Stainless Steel Frets
Locking Tuners
Expensive Wood
Compensated Nut
Top Brand Pickups
Neck-Through Build
Multi-Voicing, Sustainer Pickups
Luminescent Inlay
Compound Radius Fretboard
Made in South Korea
No Weight Relief
No Tremolo
No 21:1 Tuner Ratio
No Strap Lock
Compare

Player Feedback
Neck access to high frets:

Very Easy (1 vote)

Fret edges:

Smooth (1 vote)

Tuning stability:

Holds tune well (1 vote)

Weight:

Lightweight (1 vote)

Neck profile shape:

Baseball / U (2 votes)

Neck speed (thickness):

Fast (2 votes)

Pickups noise:

Noiseless (1 vote)

Pickups power:

Slightly Hot (1 vote)
Own it? Share your opinion
FIND IT ON:
From Schecter's 2020 Banshee Mach series
Made in South Korea
6 strings
25.5"'' scale
12" to 16" Fretboard Radius
Flamed Maple top
Swamp Ash body
Roasted Maple/Purpleheart Multi-ply with Carbon Fiber Reinforcement Rods neck
Ebony fretboard
Bridge pickup: Lundgren M6 (Humbucker/Passive)
Neck pickup: Lundgren M6 (Humbucker/Passive)
1 volume and 1 tone Dome knobs
3-way Switch
Hipshot Ibby HM Guitar Bridge bridge
Ultra Thin U Neck-Through neck
24 XL Jumbo Stainless Steel frets
Schecter Locking tuners
Price Comparison
Strengths & Weaknesses


Schecter Banshee Mach-6
Stainless Steel Frets
Locking Tuners
Expensive Wood
Compensated Nut
Top Brand Pickups
Neck-Through Build
Coil Split Pickups
Luminescent Inlay
Compound Radius Fretboard
Made in South Korea
No Weight Relief
No Tremolo
No 21:1 Tuner Ratio
No Strap Lock
Compare

FIND IT ON:
From Schecter's 2019 Artist series
Made in South Korea
6 strings
25.5"'' scale
12" to 16" Fretboard Radius
Burl top
Swamp Ash body
Wenge/Maple/Purpleheart Multi-ply w/ Carbon Fiber Reinforcement Rods neck
Ebony fretboard
Bridge pickup: Fishman Fluence Keith Merrow Custom Humbucker (Humbucker/Active)
Neck pickup: Fishman Fluence Keith Merrow Custom Humbucker (Humbucker/Active)
1 volume and 0 tone Dome knobs
3-way Switch
Hipshot Ibby HM Guitar Bridge bridge
Ultra Thin C Neck-Through neck
24 XL Jumbo Stainless Steel frets
Hipshot Grip-Lock tuners
Price Comparison
Strengths & Weaknesses


Schecter Keith Merrow KM-6 MK-III Artist
Stainless Steel Frets
Locking Tuners
Expensive Wood
Compensated Nut
Top Brand Pickups
Neck-Through Build
Multi-Voicing Pickups
Luminescent Inlay
Compound Radius Fretboard
Made in South Korea
No Weight Relief
No Tremolo
No 21:1 Tuner Ratio
No Strap Lock