Best 25.5" Scale Dean Electric Guitars in 2023
Here you'll find the best 25.5" scale Dean electric guitars. This is the same scale length used in Stratocaster guitars, and it's one of the main reasons they have such a bright sound. It's considered a long scale when compared to most non-baritone guitars.
Since the distance between bridge and nut is relatively long, you'll need to give the strings more tension to get them in tune. This higher tension will allow for a couple of things. First, you can get a lower action (get the strings closer to the fretboard) because the strings won't 'wiggle' too much when pluck and won't cause fret buzz. This can allow you to use lower tunings without increasing your string gauge, and it will make it easier to press down the strings fast.
However, the frets will also have a wider separation between each other, which can make it harder to play, especially if you got small hands. The higher tension will also make the strings feel stiffer, so bending will require more strength.
Out of the more than 2000 guitars in our database, these are the best scoring ones. You can use our filters to the left to narrow down these results, or click on "Compare" to get a deep comparison between them. Our automated scoring system takes into account the ratings from ours users who own the guitar, and dozens of parameters to determine the build quality, playability, pickups quality, value for money, and more.
There are affiliate links on this page that may earn us a commission if you purchase after clicking. We are members of the Amazon Associates Program, and many others.
Compare
From Dean's 2021 Select series
Made in Indonesia
6 strings
25.5"'' scale
12" Fretboard Radius
Flame Maple top
Eastern Mahogany body
3 Piece Maple neck
Ebony fretboard
Bridge pickup: Fishman Fluence Modern (Humbucker/Active)
Neck pickup: Fishman Fluence Modern (Humbucker/Active)
2 volume and 1 tone Dome knobs
3-way Switch
Floyd Rose 1000 (Korean) bridge
Slim C Set neck
24 Jumbo Stainless Steel frets
Mini Grover 18:1 tuners
Strengths & Weaknesses


Dean Zero Select Floyd Fluence
Stainless Steel Frets
Expensive Wood
Locking Nut
Top Brand Pickups
Multi-Voicing Pickups
Tremolo
No Locking Tuners
Made in Indonesia
No Neck-Through Build
No Weight Relief
No Luminescent Inlay
No Compound Radius Fretboard
No 21:1 Tuner Ratio
No Retainer Bar
No Strap Lock
Compare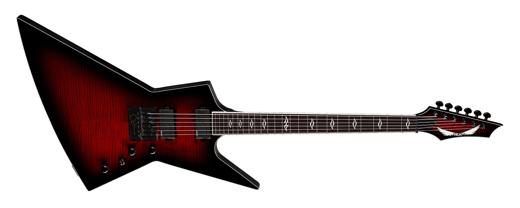 From Dean's 2021 Select series
Made in Indonesia
6 strings
25.5"'' scale
12" Fretboard Radius
Flame Maple top
Eastern Mahogany body
3 Piece Maple neck
Ebony fretboard
Bridge pickup: Fishman Fluence Modern (Humbucker/Active)
Neck pickup: Fishman Fluence Modern (Humbucker/Active)
2 volume and 1 tone Dome knobs
3-way Switch
Evertune bridge
Slim C Set neck
24 Jumbo Stainless Steel frets
Mini Grover 18:1 tuners
Strengths & Weaknesses


Dean Zero Select Evertune Fluence
Stainless Steel Frets
Expensive Wood
NuBone Nut
Top Brand Pickups
Multi-Voicing Pickups
Stays in Tune (Evertune)
No Locking Tuners
Made in Indonesia
No Neck-Through Build
No Weight Relief
No Tremolo
No Luminescent Inlay
No Compound Radius Fretboard
No 21:1 Tuner Ratio
No Strap Lock
From Dean's 2022 Select series
Made in Indonesia
6 strings
25.5"'' scale
16" Fretboard Radius
Quilt Maple top
Eastern Mahogany body
5pc Maple Walnut neck
Ebony fretboard
Bridge pickup: Fishman Fluence Classic (Humbucker/Passive)
Neck pickup: Fishman Fluence Classic (Humbucker/Passive)
1 volume and 1 tone Dome knobs
3-way Switch
Floyd Rose 1000 (Korean) bridge
Slim D Neck-Through neck
24 Jumbo frets
Grover 18:1 tuners
Strengths & Weaknesses


Dean Exile Select Floyd Neck-Thru Archtop
Expensive Wood
Locking Nut
Top Brand Pickups
Neck-Through Build
Multi-Voicing Pickups
Tremolo
Cheap Fret Wire (NS)
No Locking Tuners
Made in Indonesia
No Weight Relief
No Luminescent Inlay
No Compound Radius Fretboard
No 21:1 Tuner Ratio
No Retainer Bar
No Strap Lock
Compare
From Dean's 2022 Select series
Made in Indonesia
6 strings
25.5"'' scale
12" Fretboard Radius
Eastern Mahogany body
3 Piece Maple neck
Ebony fretboard
Bridge pickup: Fishman Fluence Modern (Humbucker/Active)
Bridge pickup: Fishman Fluence Modern (Humbucker/Active)
1 volume and 0 tone Dome knobs
3-way Switch
Tone Pros Tune-O-Matic (With Z Plate) bridge
Slim C Set neck
24 Jumbo Stainless Steel frets
Mini Grover 18:1 tuners
Strengths & Weaknesses


Dean Zero Select Fluence
Stainless Steel Frets
Expensive Wood
NuBone Nut
Top Brand Pickups
Multi-Voicing Pickups
No Locking Tuners
Made in Indonesia
No Neck-Through Build
No Weight Relief
No Tremolo
No Luminescent Inlay
No Compound Radius Fretboard
No 21:1 Tuner Ratio
No Strap Lock
Compare
From Dean's 2022 Select series
Made in Indonesia
6 strings
25.5"'' scale
16" Fretboard Radius
Burled Maple top
Alder body
3 Piece Maple neck
Ebony fretboard
Bridge pickup: Fishman Fluence Modern (Humbucker/Active)
Neck pickup: Fishman Fluence Modern (Humbucker/Active)
1 volume and 1 tone Dome knobs
3-way Switch
Floyd Rose 1000 (Korean) bridge
Slim D Bolt-On neck
24 Jumbo frets
Grover 18:1 tuners
Strengths & Weaknesses


Dean Exile Select Floyd Fluence Nat
Expensive Wood
Locking Nut
Top Brand Pickups
Multi-Voicing Pickups
Tremolo
Cheap Fret Wire (NS)
No Locking Tuners
Made in Indonesia
No Neck-Through Build
No Weight Relief
No Luminescent Inlay
No Compound Radius Fretboard
No 21:1 Tuner Ratio
No Retainer Bar
No Strap Lock
Compare
From Dean's 2022 Select series
Made in Indonesia
7 strings
25.5"'' scale
16" Fretboard Radius
Burled Maple top
Alder body
3 Piece Maple neck
Ebony fretboard
Bridge pickup: Fishman Fluence Modern (Humbucker/Active)
Neck pickup: Fishman Fluence Modern (Humbucker/Active)
1 volume and 1 tone Dome knobs
3-way Switch
Floyd Rose 1000 (Korean) bridge
Slim D Bolt-On neck
24 Jumbo frets
Grover 18:1 tuners
Strengths & Weaknesses


Dean Exile Select 7 Floyd Fluence Nat
Expensive Wood
Locking Nut
Top Brand Pickups
Multi-Voicing Pickups
Tremolo
Cheap Fret Wire (NS)
No Locking Tuners
Made in Indonesia
No Neck-Through Build
No Weight Relief
No Luminescent Inlay
No Compound Radius Fretboard
No 21:1 Tuner Ratio
No Retainer Bar
No Strap Lock
Compare
From Dean's 2021 Select series
Made in Indonesia
6 strings
25.5"'' scale
16" Fretboard Radius
Alder body
3 Piece Maple neck
Ebony fretboard
Bridge pickup: Fishman Fluence Modern (Humbucker/Active)
Neck pickup: Fishman Fluence Modern (Humbucker/Active)
1 volume and 1 tone Dome knobs
3-way Switch
Floyd Rose 1000 (Korean) bridge
Slim D Bolt-On neck
24 Jumbo frets
Mini Grover 18:1 tuners
Strengths & Weaknesses


Dean Exile Select Floyd Fluence
Expensive Wood
Locking Nut
Top Brand Pickups
Multi-Voicing Pickups
Tremolo
Cheap Fret Wire (NS)
No Locking Tuners
Made in Indonesia
No Neck-Through Build
No Weight Relief
No Luminescent Inlay
No Compound Radius Fretboard
No 21:1 Tuner Ratio
No Retainer Bar
No Strap Lock
All Prices
From Dean's 2020 Select series
Made in Indonesia
7 strings
25.5"'' scale
16" Fretboard Radius
Burled Poplar top
Alder body
3 Piece Maple neck
Ebony fretboard
Bridge pickup: EMG 57 TW7 (Humbucker/Active)
Neck pickup: EMG 66 TW7 (Humbucker/Active)
1 volume and 1 tone Dome knobs
3-way Switch
Floyd Rose 1000 (Korean) bridge
Slim D Bolt-On neck
24 Jumbo frets
Mini Grover 18:1 tuners
Strengths & Weaknesses


Dean Exile Select Floyd 7 St Burl Poplar
Expensive Wood
Locking Nut
Top Brand Pickups
Coil Split Pickups
Tremolo
Cheap Fret Wire (NS)
No Locking Tuners
Made in Indonesia
No Neck-Through Build
No Weight Relief
No Luminescent Inlay
No Compound Radius Fretboard
No 21:1 Tuner Ratio
No Retainer Bar
No Strap Lock
All Prices
From Dean's 2021 Select series
Made in Indonesia
6 strings
25.5"'' scale
12" Fretboard Radius
Basswood body
3 Piece Maple neck
Ebony fretboard
Bridge pickup: Seymour Duncan TB-5 (Humbucker/Passive)
Neck pickup: Seymour Duncan APH-1N (Humbucker/Passive)
1 volume and 0 tone Dome knobs
3-way Switch
Kahler Hybrid bridge
Slim C Bolt-On neck
24 Jumbo frets
Grover 18:1 tuners
Strengths & Weaknesses


Dean MD24 Select Kahler
Expensive Wood
Locking Nut
Top Brand Pickups
Tremolo
Cheap Fret Wire (NS)
No Locking Tuners
Made in Indonesia
No Neck-Through Build
No Push Knob or Extra Switch Option
No Weight Relief
No Luminescent Inlay
No Compound Radius Fretboard
No 21:1 Tuner Ratio
No Retainer Bar
No Strap Lock
All Prices
Compare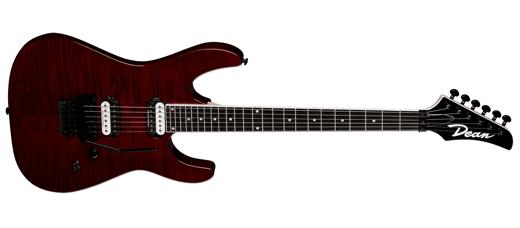 From Dean's 2020 Select series
Made in Indonesia
6 strings
25.5"'' scale
12" Fretboard Radius
Flame Maple top
Basswood body
3 Piece Maple neck
Ebony fretboard
Bridge pickup: Seymour Duncan TB-5 (Humbucker/Passive)
Neck pickup: Seymour Duncan APH-1N (Humbucker/Passive)
1 volume and 0 tone Dome knobs
3-way Switch
Floyd Rose 1000 (Korean) bridge
C Bolt-On neck
24 Jumbo frets
Grover tuners
Strengths & Weaknesses


Dean MD 24 Select Flame Floyd
Expensive Wood
Locking Nut
Top Brand Pickups
Tremolo
Cheap Fret Wire (NS)
No Locking Tuners
Made in Indonesia
No Neck-Through Build
No Push Knob or Extra Switch Option
No Weight Relief
No Luminescent Inlay
No Compound Radius Fretboard
No 21:1 Tuner Ratio
No Retainer Bar
No Strap Lock
All Prices