Best 24.75" Scale Electric Guitars in 2023
Here you'll find the best 24.75" scale electric guitars. This is the scale length used in most Gibson guitars. If you like the playability of a Gibson, this guitar will feel pretty similar. It's a lot shorter than the typical Stratocaster (25.5'')
As you can see from the picture above, a shorter scale length also means shorter separation between frets. If you got really small hands, you probably will feel more comfortable playing this guitar than a Fender Stratocaster.
This scale length also allows for easier bends and vibratos because the strings will have lower tension due to the shorter scale.
Finally, another thing affected by scale length is tone. A shorter scale will give less room for the harmonics, thus resulting in a warmer, more 'bassy' tone.
Still, remember that you string gauge plays an important part in all of this. A lighter gauge will make it easier to perform bends, vibratos and will also give you a brighter tone.
Out of the more than 2000 guitars in our database, these are the best scoring ones. You can use our filters to the left to narrow down these results, or click on "Compare" to get a deep comparison between them. Our automated scoring system takes into account the ratings from ours users who own the guitar, and dozens of parameters to determine the build quality, playability, pickups quality, value for money, and more.
There are affiliate links on this page that may earn us a commission if you purchase after clicking. We are members of the Amazon Associates Program, and many others.
Compare

Player Feedback
Neck access to high frets:

Very Easy (1 vote)

Fret edges:

Smooth (1 vote)

Tuning stability:

Holds tune well (1 vote)

Weight:

Slightly heavy (1 vote)

Neck profile shape:

C (14 votes)

Neck speed (thickness):

Fast (11 votes)

Pickups noise:

Noiseless (17 votes)

Pickups power:

Hot (14 votes)
Own it? Share your opinion
From Schecter's 2022 SLS Elite series
Made in South Korea
6 strings
24.75"'' scale
12" to 16" Fretboard Radius
Swamp Ash body
Maple/Walnut/Padauk Multi-ply w/ Carbon Fiber Reinforcement Rods neck
Ebony fretboard
Bridge pickup: Fishman Fluence Modern Ceramic (Humbucker/Active)
Neck pickup: Fishman Fluence Modern Alnico (Humbucker/Active)
2 volume and 1 tone Dome knobs
3-way Switch
TonePros T3BT TOM & T1Z Tailpiece bridge
Ultra Thin C Neck-Through neck
24 XL Jumbo Stainless Steel frets
Schecter Locking tuners
Strengths & Weaknesses


Schecter Solo-II SLS Elite Evil Twin
Stainless Steel Frets
Locking Tuners
Expensive Wood
Compensated Nut
Top Brand Pickups
Neck-Through Build
Multi-Voicing Pickups
Luminescent Inlay
Compound Radius Fretboard
Made in South Korea
No Weight Relief
No Tremolo
No 21:1 Tuner Ratio
No Strap Lock
All Prices
Compare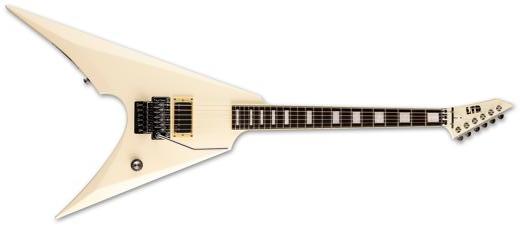 Player Feedback
Neck profile shape:

D (20 votes)

Neck speed (thickness):

Fast (30 votes)

Pickups noise:

Slightly Noisy (1 vote)

Pickups power:

Hot (1 vote)
Own it? Share your opinion
From ESP LTD's 2021 Signature series
Made in Indonesia
6 strings
24.75"'' scale
13.78" Fretboard Radius
Mahogany w/ Maple Cap body
3Pc Mahogany neck
Macassar Ebony fretboard
Bridge pickup: EMG JH James Hetfield (Humbucker/Active)
1 volume and 0 tone Bell knobs
Floyd Rose 1000 bridge
Thin U Neck-Through neck
24 XL Jumbo Stainless Steel frets
Grover tuners
Strengths & Weaknesses


ESP LTD MSV-1
Stainless Steel Frets
Expensive Wood
Locking Nut
Top Brand Pickups
Neck-Through Build
Tremolo
No Locking Tuners
Made in Indonesia
No Push Knob or Extra Switch Option
No Weight Relief
No Luminescent Inlay
No Compound Radius Fretboard
No 21:1 Tuner Ratio
No Retainer Bar
No Strap Lock
All Prices
From ESP's 2016 Signature series
Made in Japan
6 strings
24.75"'' scale
12" Fretboard Radius
Flamed Maple top
Mahogany body
3pc Maple neck
Rosewood fretboard
Bridge pickup: Seymour Duncan AS Signature (Humbucker/Passive)
Neck pickup: Seymour Duncan AS Signature (Humbucker/Passive)
2 volume and 1 tone Speed knobs
3-way Switch
Floyd Rose Original bridge
Custom U Set neck
22 XL Jumbo frets
Grover tuners
Strengths & Weaknesses


ESP Alex Skolnick FR
Made in Japan
Expensive Wood
Locking Nut
Top Brand Pickups
Coil Split Pickups
Tremolo
Strap Lock
Cheap Fret Wire (NS)
No Locking Tuners
No Neck-Through Build
No Weight Relief
No Luminescent Inlay
No Compound Radius Fretboard
No 21:1 Tuner Ratio
No Retainer Bar
Compare

Player Feedback
Neck profile shape:

C (36 votes)

Neck speed (thickness):

Fast (32 votes)

Pickups noise:

Noiseless (2 votes)

Pickups power:

Hot (2 votes)
Own it? Share your opinion
From Schecter's 2019 Apocalypse series
Made in South Korea
6 strings
24.75"'' scale
12" to 16" Fretboard Radius
Swamp Ash body
Maple/Padauk Multi-ply w/Carbon Fiber Reinforcement Rods neck
Ebony fretboard
Bridge pickup: Schecter USA Apocalypse-VI (Humbucker/Passive)
Neck pickup: Schecter USA Apocalypse-VI (Humbucker/Passive)
2 volume and 1 tone Dome knobs
3-way Switch
Floyd Rose 1500 Series bridge
Thin C Set neck
22 XL Jumbo Stainless Steel frets
Grover Rotomatic 18:1 tuners
Strengths & Weaknesses


Schecter Solo-II FR Apocalypse Red Reign
Stainless Steel Frets
Expensive Wood
Locking Nut
Top Brand Pickups
Coil Split Pickups
Tremolo
Luminescent Inlay
Compound Radius Fretboard
No Locking Tuners
Made in South Korea
No Neck-Through Build
No Weight Relief
No 21:1 Tuner Ratio
No Retainer Bar
No Strap Lock
All Prices
Compare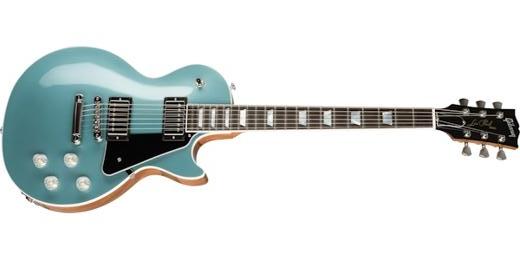 Player Feedback
Neck access to high frets:

Normal (1 vote)

Fret edges:

Smooth (1 vote)

Tuning stability:

Holds tune well (1 vote)

Weight:

Slightly heavy (1 vote)

Neck profile shape:

Asymmetrical (2 votes)

Neck speed (thickness):

Slightly chunky (2 votes)

Pickups noise:

Noiseless (3 votes)

Pickups power:

Slightly Hot (3 votes)
Own it? Share your opinion
From Gibson's 2019 Modern Collection series
Made in United States
6 strings
24.75"'' scale
10" to 16" Fretboard Radius
Maple top
Mahogany body
Mahogany neck
Ebony fretboard
Bridge pickup: Gibson Burstbucker Pro + Lead (Humbucker/Passive)
Neck pickup: Gibson Burstbucker Pro Rhythm (Humbucker/Passive)
2 volume and 2 tone Bell knobs
3-way Switch
Aluminum Nashville Tune-O-Matic bridge
Asymmetrical Slim Taper Set neck
22 Medium Jumbo frets
Grover Locking Rotomatics w/Keystone buttons tuners
Strengths & Weaknesses


Gibson Les Paul Modern
Locking Tuners
Made in United States
Expensive Wood
Ivory Tusq Nut
Top Brand Pickups
Coil Tap, Phase Out Pickups
Weight Relief
Compound Radius Fretboard
Cheap Fret Wire (NS)
No Neck-Through Build
No Tremolo
No Luminescent Inlay
No 21:1 Tuner Ratio
No Strap Lock
All Prices
Compare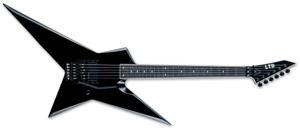 From ESP LTD's 2022 Signature series
Made in Indonesia
6 strings
24.75"'' scale
13.78" Fretboard Radius
Mahogany body
3Pc Mahogany neck
Macassar Ebony fretboard
Bridge pickup: Seymour Duncan Blackouts Metal (Humbucker/Active)
1 volume and 0 tone Dome knobs
Floyd Rose 1000 SE bridge
Extra Thin U Neck-Through neck
24 XL Jumbo Stainless Steel frets
LTD tuners
Strengths & Weaknesses


ESP LTD SD-2
Stainless Steel Frets
Expensive Wood
Locking Nut
Top Brand Pickups
Neck-Through Build
Tremolo
Luminescent Inlay
No Locking Tuners
Made in Indonesia
No Push Knob or Extra Switch Option
No Weight Relief
No Compound Radius Fretboard
No 21:1 Tuner Ratio
No Retainer Bar
No Strap Lock
All Prices
Compare
Player Feedback
Neck profile shape:

C (10 votes)

Neck speed (thickness):

Balanced (6 votes)

Pickups noise:

Noiseless (7 votes)

Pickups power:

Slightly Hot (7 votes)
Own it? Share your opinion
From Solar's 2020 Type E series
Made in Indonesia
6 strings
24.75"'' scale
13.78" Fretboard Radius
Flame Maple Veneer top
Mahogany body
Maple neck
Ebony fretboard
Bridge pickup: Duncan Solar/Bridge (Humbucker/Passive)
Neck pickup: Duncan Solar (Humbucker/Passive)
1 volume and 1 tone Dome knobs
3-way Switch
Floyd Rose 1000, with 34 mm Block bridge
Solar C Shape Set neck
22 XL Jumbo Stainless Steel frets
Solar 18:1 Locking Type tuners
Strengths & Weaknesses


Solar E1.6FRLB
Stainless Steel Frets
Locking Tuners
Expensive Wood
Locking Nut
Top Brand Pickups
Coil Split Pickups
Tremolo
Luminescent Inlay
Made in Indonesia
No Neck-Through Build
No Weight Relief
No Compound Radius Fretboard
No 21:1 Tuner Ratio
No Retainer Bar
No Strap Lock
Compare
Player Feedback
Neck profile shape:

D (26 votes)

Neck speed (thickness):

Fast (28 votes)

Pickups noise:

Noiseless (1 vote)

Pickups power:

Slightly Hot (1 vote)
Own it? Share your opinion
From Jackson's 2017 Artist Signature series
Made in United States
6 strings
24.75"'' scale
12" to 16" Fretboard Radius
Mahogany body
Mahogany neck
Rosewood fretboard
Bridge pickup: Seymour Duncan JB SH-4 (Humbucker/Passive)
Neck pickup: Seymour Duncan '59 SH-1N (Humbucker/Passive)
1 volume and 1 tone Dome knobs
3-way Switch
TonePros Adjustable Tune-O-Matic Style with Gotoh Stop Tailpiece bridge
Speed Neck-Through neck
22 Jumbo frets
Gotoh Die-Cast tuners
Strengths & Weaknesses


Jackson USA Signature Scott Ian King V KVT
Made in United States
Expensive Wood
Black Tusq XL Nut
Top Brand Pickups
Neck-Through Build
Compound Radius Fretboard
Cheap Fret Wire (NS)
No Locking Tuners
No Push Knob or Extra Switch Option
No Weight Relief
No Tremolo
No Luminescent Inlay
No 21:1 Tuner Ratio
No Strap Lock
Compare
Player Feedback
Neck access to high frets:

Very Easy (1 vote)

Fret edges:

Smooth (1 vote)

Tuning stability:

Holds tune well (1 vote)

Weight:

Slightly heavy (1 vote)

Neck profile shape:

Baseball / U (3 votes)

Neck speed (thickness):

Fast (6 votes)

Pickups noise:

Noiseless (3 votes)

Pickups power:

Hot (3 votes)
Own it? Share your opinion
From ESP E-II's 2014 Viper series
Made in Japan
6 strings
24.75"'' scale
12" Fretboard Radius
Mahogany body
Mahogany neck
Ebony fretboard
Bridge pickup: EMG 57TW (Humbucker/Active)
Neck pickup: EMG 66TW (Humbucker/Active)
1 volume and 1 tone Dome knobs
3-way Switch
Gotoh TOM & Tailpiece bridge
Thin U Set neck
24 XL Jumbo frets
Gotoh Locking tuners
Strengths & Weaknesses


ESP E-II Viper
Locking Tuners
Made in Japan
Expensive Wood
Bone Nut
Top Brand Pickups
Coil Split Pickups
Strap Lock
Cheap Fret Wire (NS)
No Neck-Through Build
No Weight Relief
No Tremolo
No Luminescent Inlay
No Compound Radius Fretboard
No 21:1 Tuner Ratio
All Prices
Compare

Player Feedback
Neck profile shape:

Baseball / U (3 votes)

Neck speed (thickness):

Fast (6 votes)

Pickups noise:

Noiseless (7 votes)

Pickups power:

Slightly Hot (7 votes)
Own it? Share your opinion
From ESP E-II's 2014 Eclipse series
Made in Japan
6 strings
24.75"'' scale
12" Fretboard Radius
Mahogany body
1Pc Mahogany neck
Ebony fretboard
Bridge pickup: Seymour Duncan Pegasus (Humbucker/Passive)
Neck pickup: Seymour Duncan Sentient (Humbucker/Passive)
2 volume and 1 tone Dome knobs
3-way Switch
Evertune (F model) bridge
Thin U Set neck
22 XL Jumbo frets
Gotoh Locking tuners
Strengths & Weaknesses


ESP E-II Eclipse Evertune
Locking Tuners
Made in Japan
Expensive Wood
Bone Nut
Top Brand Pickups
Coil Split Pickups
Stays in Tune (Evertune)
Strap Lock
Cheap Fret Wire (NS)
No Neck-Through Build
No Weight Relief
No Tremolo
No Luminescent Inlay
No Compound Radius Fretboard
No 21:1 Tuner Ratio
All Prices