Fender FA-345CE Auditorium Review & Prices
Compare
From Fender's 2018 Fender Alternative series
Made in Indonesia
6 strings
25.3"'' scale
11.81" Fretboard Radius
Flame Maple top
Laminated Flame Maple body
Nato neck
Walnut fretboard
Bridge pickup: Fishman CD-1 Preamp (Preamp/Passive)
Walnut bridge
Acoustic C Shape Set neck
20 Medium frets
Open-Back Geared tuners
From Fender's 2018 Fender Alternative series
Made in Indonesia
6 strings
25.3"'' scale
11.81" Fretboard Radius
Flame Maple top
Laminated Flame Maple body
Nato neck
Walnut fretboard
Bridge pickup: Fishman CD-1 Preamp (Preamp/Passive)
Walnut bridge
Acoustic C Shape Set neck
20 Medium frets
Open-Back Geared tuners
Verdict: is The Fender FA-345CE Auditorium a Good Guitar?
Made in Indonesia with great craftsmanship while keeping the price as low as possible. It's a guitar with good playability. It comes with excellent pickups with good sound and provides tons of sustain. It favors playing chords more than solos. In general, it's a guitar with great value that offers a lot for the cost. Overall, a good guitar for the price.
Final Scores and Tone Evaluation
Tone Evaluation
Heavy Metal
Hard Rock
Jazz
Blues
Funk
Country
Strengths & Weaknesses


Fender FA-345CE Auditorium
Expensive Wood
Ivory Tusq Nut
Top Brand Pickups
Electronics
Ivory Tusq Saddle
Cheap Fret Wire (NS)
No Locking Tuners
Not from a High-Quality-Standards Country
Laminated Top Wood
Laminated Side Wood
Laminated Back Wood
No Compound Radius Fretboard
No 21:1 Tuner Ratio
No Strap Lock
Videos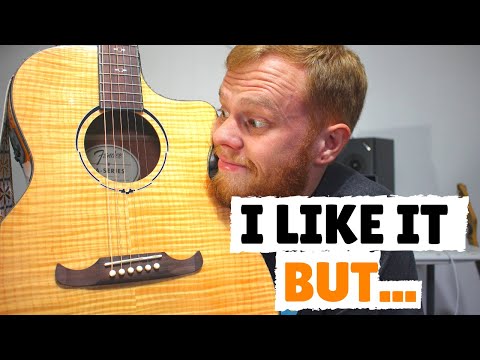 Fender FA-345CE Auditorium Review || Great Acoustic Guitar Under 400$!!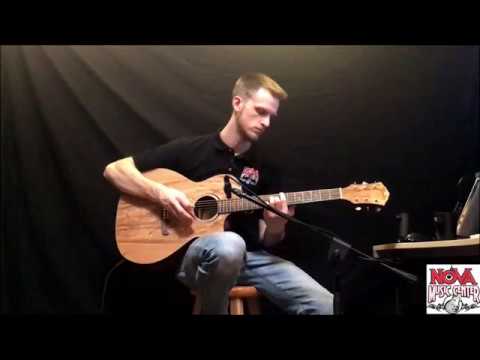 Fender FA-345CE Spalted Maple - Sound Demo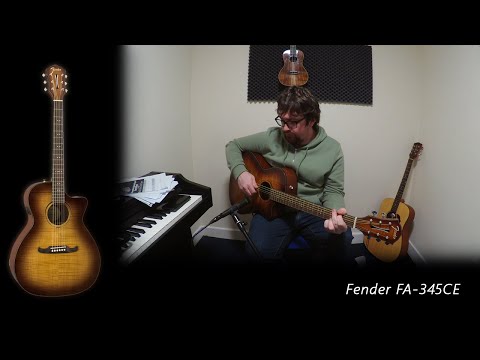 Fender FA-345CE
Fender FA 345CE Direct Input
Fender FA-345CE Auditorium Prices
These are affiliate links. We'll earn a small fee if you purchase after clicking. We are not a store, we're not owned, nor are we related to these retailers in any way beyond receiving a fee from qualifying purchases. We'll always show you the best prices we find regardless of the compensation we receive. These prices are searched for automatically and are prone to error. Make sure you're buying the right product after clicking on a link from our site. We are not liable if you buy the wrong product after following these links.
Is the Fender FA-345CE Auditorium a Good Deal?
Its average competitor's price is $300, which means that the Fender FA-345CE Auditorium is within the average price asked for this kind of guitar. This takes into account all guitars of the same category in our database with 6 strings and Fixed bridge that are made in Indonesia.
Is The Fender FA-345CE Auditorium Easy to Play?
The Fender FA-345CE Auditorium meets 4 out of our 9 criteria items for beginner friendliness, which means that it's not recommended for complete beginners. This takes into account the type of frets, scale length, nut width, bridge type, fretboard radius, and neck profile to determine the easiest combination for new players to get used to.
Fender FA-345CE Auditorium
New Player Friendliness
Easy-to-use bridge
Tall frets
Wide nut
Comfortable neck
Comfortable shape
Locking tuners
Comfortable fretboard
Short scale
Soft Strings
Hand Size Comfortability
After taking into account the neck profile, scale size, fretboard radius, and nut width, we can conclude that the Fender FA-345CE Auditorium's construction is balanced for most hand sizes.
Nevertheless, this comes down in the end to personal preference. Make sure you test this guitar—or another one with similar characteristics—before buying.
Big Hands
Balance
Small hands
Scale Length
Scale length is the distance the strings will span between the bridge and the nut. It can tell you a lot about the overall playability and tone of the instrument. A longer scale length means longer distance between frets, brighter tone and more string tension—which means lower action, but more difficult bending of the strings.
Here's the Fender FA-345CE Auditorium's 25.3" scale length compared to other common sizes: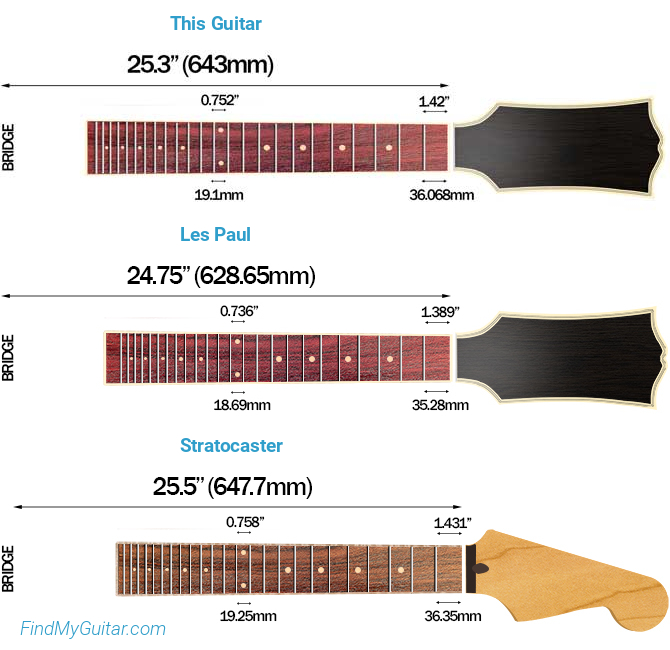 Fender FA-345CE Auditorium's scale length (at the top) compared to other popular sizes
This is considered a long scale, but slightly shorter than what's commonly found in acoustic guitars.
Since the distance between bridge and nut is relatively long, strings will feel stiff and more difficult to bend, but the tone will feel brighter. It will also be less likely to produce fret buzzing and rattling when strumming hard.
Neck Profile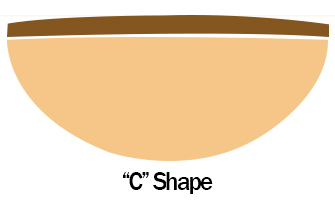 Fender FA-345CE Auditorium's neck profile
The neck profile tells you the thickness (neck depth) and shape in cross section. Every difference will completely change the feeling and comfortability of the neck. This is a highly subjective thing, but most players indeed prefer certain types of necks (like Cs and Ds) because they feel nice in most hands.
It has a C type neck. C-shaped necks like this have been the most popular for the last years. The reason is that they feel good in most hands. It's generally a thin neck that doesn't get in your way when playing fast, but that also has enough mass to give your hands a comfortable grip for chords if they aren't too big.

Thin necks like this make it easier to move your hand across the neck and it helps when playing fast solos, especially if you like to leave your thumb free while playing high on the fretboard. However, thinner necks are also weaker and will need adjustment more often than a thicker neck.
Fretboard Radius
When it comes to fingerboard radius, personal preference will dictate which one is better for you. However, most people seem to agree that a more curved (lower) radius will make it easier to play chords while a less curved (higher) radius is better for soloing and bending.
The Fender FA-345CE Auditorium has a 11.81" fingerboard radius. Here's an image comparing this guitar's fretboard radius to other popular choices:

Fender FA-345CE Auditorium's fretboard radius compared to other guitars
The main advantage of an 11.81-inches fretboard radius guitar is that it provides more room for the fingers to move around on the fretboard. This can be especially helpful for players with large hands or who want to use wide vibrato techniques. Additionally, the increased radius can make string bends easier to execute.
A disadvantage of this type of guitar is that it can be more difficult to control when playing at high speeds; some players may find that their hands "slide off" the fretboard more easily. Additionally, guitars with a larger radius may require higher action (the distance between the strings and the fretboard) in order to avoid buzzing sounds when fretted notes are played.
Compound radius fingerboards give the best of both worlds. Unfortunately, the Fender FA-345CE Auditorium has the same radius across the board.
Nut Width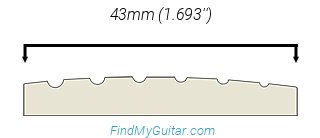 Fender FA-345CE Auditorium Nut Width
The Fender FA-345CE Auditorium has a nut width of 43mm (1.693''). This size is also known as 1 11/16'' and it's the most common size. It offers a good balance of string separation at the nut. It's the size that most guitarists prefer as it gives them just enough space to play open chords without muting the strings, but without spreading the strings too wide and making bar chords difficult to perform.
Frets
It comes with nickel silver frets, so they won't last as long as stainless steel frets. If you use your instrument a lot, you might need to replace the frets after a few years. But this is unlikely as most people change instruments before this happens.
Fret Size

Fender FA-345CE Auditorium's fret size (in orange) compared to other popular sizes
Finally, let's talk about fret size. Some people prefer tall frets because it's easier to press the strings and perform bends since there's less friction against the fretboard. On the other hand, some people like shorter frets because they like to touch the fretboard when playing, or because they got heavy hands and tend to press too much on the string and alter the of the note pitch accidently.
The Fender FA-345CE Auditorium's frets are Medium size. With medium frets, you can feel the fretboard more than with jumbo frets, but it's still easier to press the strings cleanly than with small frets; notes might change their pitch just slightly if you press hard on the fret. Also, if you need to do some fret leveling after years of playing, you'll have some room to sand them down without having to replace them.
Playability Score
Bending & Vibrato Ease
75
Does the Fender FA-345CE Auditorium Sound Good? Tone Analysis
The type of wood and even the shape of the body will have a lot of influence in the final tone of an acoustic guitar. Here's we'll talk about what kind of tone you can expect from its specs.
Wood Used in the Fender FA-345CE Auditorium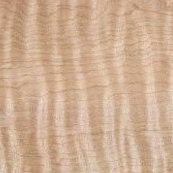 Flame Maple Top
Lacewood Back, Sides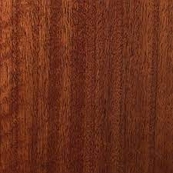 Nato Neck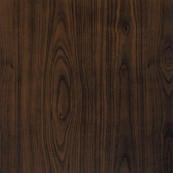 Walnut Fretboard
Flame Maple Top: This wood has beautiful patterns only found in specific types of maple.
Lacewood Back and Sides: Lacewood is a very popular tonewood for acoustic guitars because it has a very even and balanced tone. It is also a very hard wood, which makes it durable and resistant to changes in temperature and humidity.
Nato Neck: This wood is also known as Eastern Mahogany because it's very similar to Mahogany, although it is cheaper.
Walnut Fretboard: It's a hard wood with a chocolate color that is often used to give an elegant finish. Since it's quite expensive and rare, it's mostly used for guitar tops.
Pickups
This guitar comes with pickups from one of the top brands: Fishman. So you can expect well built pickups with great sound that shouldn't need an upgrade anytime soon.
Sound Score
How well is the Fender FA-345CE Auditorium Built?
Where is the Fender FA-345CE Auditorium Made?
Knowing where the guitar is produced is a good way to know how well it's built. Some manufacturing countries are known for having higher quality standards. For example, most expensive guitars are made in the US or Japan, but there are some exceptionally great countries—like South Korea—that are building a good reputation.
The Fender FA-345CE Auditorium is made in Indonesia. Many people prefer the quality of an Indonesian guitar over a Chinese. Respectable brands like Epiphone, Ibanez and Schecter are building in this country because of the great quality and lower price. Some people like to compare them to the ones built in Japan during the 80s, when Japanese guitar makers made a name for themselves.
Bridge
Walnut: The advantage of fixed bridges is that they don't require any kind of set-up. This makes it extremely easy when changing strings because you don't need to adjust anything besides tuning the guitar. Also, the fact that the bridge is directly attached to the body will help to increase sustain. The disadvantage is the lack of versatility since you can't create the same vibrato effects as with tremolo bridges.
Nut Material
Another important thing to analyze is the nut material, as it's one of the most important aspects that can affect the sound and playability of your guitar. A well-cut nut will make sure the guitar stays in tune and will make it more comfortable to play.
In this case, the Fender FA-345CE Auditorium has a Ivory Tusq nut. This material is made to look, feel and sound like Ivory. It's made of organic polymers and doesn't contain oil or animal products. This is probably the highest quality nut you can get, so you can expect good tune stability and more clear tones when playing open strings. Most people seem to agree that it looks nicer than any plastic and even some bone nuts.
Neck Joint
The neck joint is the part where the neck of the guitar meets the body. There are three main techniques to attach both parts together: Set-In, Bolt-On and Neck-Through. The latter two provide different advantages, although neck-throughs are the most expensive.
This guitar has a Set neck joint. This type of neck joint consists of using different pieces of wood for the neck and the body of the guitar. Both pieces are then glued together. This is more expensive to make than a bolt-on neck, but it's cheaper than a neck-through guitar. Some people believe that this gives more sustain than a bolt-on neck due to both pieces having a 'better connection' than with bolts. Still, it's something difficult to prove.
However, this type of neck joint does have the disadvantage of not allowing you to easily swap the neck for another. This makes this type of neck joint less mod-friendly.
Build Quality Score
Most Popular Comparisons With The Fender FA-345CE Auditorium
Fender FA-345CE Auditorium

Specs
Series:
Fender Alternative
Body Material:
Laminated Flame Maple
Decoration:
Pearloid Keystone
Nut Width:
43mm (1.693'')
Bridge Pickup:
Fishman CD-1 Preamp (Preamp / Passive)