Only 5.1% of Signature Electric Guitars Are From Women or Non-Binary People: Here's all 14 of Them
June 1, 2022 by Rachel Aguirre
Though we're at the height of female involvement in the music industry, there is an alarming gender gap in the signature guitars produced by electric guitar companies. We researched the top 21 guitar brands and found that there are only 14 non-limited-time signature electric guitars made for female or non-binary people compared to 259 signature guitars made for men. Each company has at least one signature model made for a male artist and some companies have up to 30 signature models made for men. In stark contrast, some brands have up to three signature models made for women, and most brands have zero female representation.
After analyzing the top 30 electric guitar brands, we found that out of 273 signature artists, only 14 are women. This table updates dynamically as we add more guitars to our database

| Brand | Female Artists | Male Artists | Female Representation |
| --- | --- | --- | --- |
| Fender | 3 | 34 | 8.1% |
| Ibanez | 3 | 24 | 11.1% |
| Epiphone | 2 | 10 | 16.7% |
| ESP LTD | 1 | 30 | 3.2% |
| Gibson | 1 | 10 | 9.1% |
| Music Man | 1 | 8 | 11.1% |
| Reverend | 1 | 12 | 7.7% |
| Schecter | 1 | 31 | 3.1% |
| Strandberg | 1 | 3 | 25% |
| Chapman | 0 | 1 | 0% |
| Charvel | 0 | 11 | 0% |
| Cort | 0 | 1 | 0% |
| D'Angelico | 0 | 3 | 0% |
| Dean | 0 | 6 | 0% |
| ESP | 0 | 2 | 0% |
| EVH | 0 | 1 | 0% |
| Fender Custom | 0 | 9 | 0% |
| Fender Squier | 0 | 1 | 0% |
| Gibson Custom | 0 | 4 | 0% |
| Gretsch | 0 | 14 | 0% |
| Guild | 0 | 1 | 0% |
| Harley Benton | 0 | 1 | 0% |
| Jackson | 0 | 18 | 0% |
| Kramer | 0 | 3 | 0% |
| PRS | 0 | 9 | 0% |
| Sire | 0 | 1 | 0% |
| Solar | 0 | 7 | 0% |
| Sterling | 0 | 1 | 0% |
| Washburn | 0 | 2 | 0% |
| Yamaha | 0 | 1 | 0% |
| Total | 14 | 259 | 5.1% |
Why We Need More Signature Guitars for Women
In 2018, Fender published a survey that revealed that 50% of aspirational guitarists are female. Yet, female representation among big brands is dismal, averaging at 5.1% signature guitars made for women. The obvious benefits of increasing representation through female lineups are two-fold. First, patterning signature guitars after the sound and aesthetic of female artists recognizes and validates female guitarists. Second, signature guitars made for women provide role models for other females (which again, constitute 50% of first-time guitar buyers) and can inspire them to pursue careers in the music industry.
There are also practical benefits to having women co-create signature guitars with companies. Lari Basilio designed her signature guitar with a fretboard that gets flatter going up "which is the easiest for the size of my hands." Women generally have smaller hands than men. In 2017, St. Vincent told Vice News she was determined to make her signature guitar "as comfortable to play sitting as it was standing up." On Instagram, she quipped that "there is room for a breast or two." Beneath Clark's joke is the recognition that female representation is essential to designing guitars that fit comfortably against the female body.
That being said, brands needn't worry that manufacturing female designs will limit potential male buyers. Male artists like Beck, Dave Grohl (Foo Fighters), and Omar Rodríguez-López (The Mars Volta) have all shredded on St. Vincent signature guitars.
Guitar companies like Fender and Gibson have been incorporating more women into their marketing campaigns. While these endorsements are certainly a step in the right direction, a stronger move would be to produce signature guitars that point directly to female guitarists who have shaped the music industry.
Here are the 14 women who have signature guitars on the market and whose careers and signature guitars prove that female designs are a worthwhile investment:
Chrissie Hynde

Hynde is a guitarist, lead vocalist, primary songwriter, and a founding member of the rock band the Pretenders (formed in 1978). Known for her driving rhythms and passionate animal-rights activism, Hynde performed with the Pretenders at Live Aid in 1985 and was inducted into the Rock and Toll Hall of Fame in 2005.
Her signature guitar, the Chrissie Hynde Telecaster, is modeled after her '65 telecaster. The vintage design features '50s Tele pickups and has been updated for durability. With a Faded Ice Blue Metallic body and a maple neck, this telecaster has the look and sound of a rock and roll legend.
Emily Wolfe
The sensational solo artist released her first album, Director's Notes, in 2012. Wolfe is a vocalist, songwriter, and self-taught guitarist who started playing at five years old. With a rugged rock style and impressive riffs, Wolfe has performed with the Heart, the Pretenders, Peter Frampton, Billy Gibbons, and Gary Clark Jr.
Her signature guitar, the Emily Wolfe Sheraton Stealth, pairs a black-aged gloss body with gold hardware for a bold yet classy look. The semi-hollow is comfortable to play and is built to handle the classic rock and blues Wolfe so loves to fuse.
H.E.R
The Grammy-winning R&B star, Gabriella Sarmiento Wilson, anonymously debuted her first album in 2016 under the moniker H.E.R. (Having Everything Revealed). No longer anonymous, Wilson still tries to draw attention to her music over her personal life. She is acclaimed for her confident yet vulnerable ballads and powerful protest songs.
The H.E.R. Stratocaster features a stunning Chrome Glow body with a maple neck. The vintage noiseless pickups are tailored to H.E.R.'s preference for clean R&B tones. In discussing her signature guitar, H.E.R. said "I think it will inspire a lot of young black girls—and actually a lot of young girls in general—to pick up the guitar."
Jenn Wasner

Wasner is a guitarist, songwriter, and a founding member of the band Wye Oak. The band has performed on tour with the likes of The National and The Decemberists. Wasner has also worked on a solo project, Flock of Dimes, and a collaboration with Jon Ehrens of White Life and Art Department called Dungeonesse.
The Reverend Jenn Wasner Signature JW-1 taps into the visual aesthetic of Wasner's work (Wye Oak, Flock of Dimes, Dungeonesse). With a pair of custom Reverend humbuckers in the bridge and the neck, this guitar is built for open tunings and heavy effects.
Lari Basilio

Basilio is a Brazilian guitarist who won the 2014 Samsung E-instrumental Festival's category. She performed at the Malibu Guitar Festival in 2017 and was the first female guitarist invited to participate in the G4 Experience (2019). She has never felt the need to put lyrics to her songs and believes that music speaks for itself.
Basilio's signature guitar, LB1, is finished in a dazzling violet with a roasted maple neck. The T-style axe features luminescent dots on the fretboard that are perfect for guitarists playing on a dark stage, and the dyna-MIX9 switching system offers a gamut of tones.
Lzzy Hale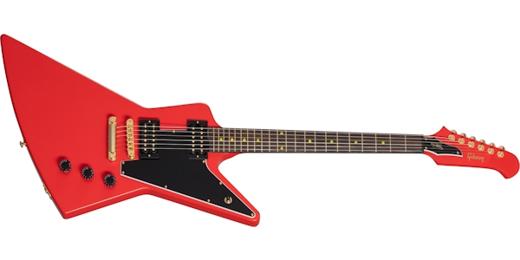 Lzzy is the leader and frontwoman of the band Halestorm, a Grammy Award-winning and record-breaking rock band that she co-founded with her brother in 1997. Her strong presence on stage and musical talent has earned her multiple awards, including a She Rocks Award and a Dimebag Darrell Shredder Award.
Nancy Wilson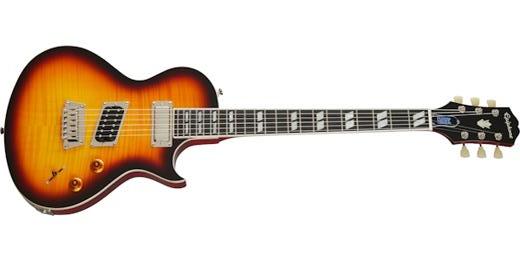 Wilson is a guitarist, vocalist, and co-founder of the multi-platinum rock band Heart. She is also a songwriter, producer, and film composer. Wilson paved the way for other female rockers and her status as a rock and roll legend was solidified in 2013 when Heart was inducted into the Rock n' Roll Hall of Fame.
The Nancy Wilson Nighthawk Fanatic is based on Gibson's 1993 Nighthawk body shape which was originally designed by Wilson herself. Finished in Fireburst Gloss, this nighthawk offers guitarists five distinct pickup options and is one of the more affordable signature guitars on the market.
Nikki Stringfield

Stringfield is the former guitarist for Before the Mourning, the current guitarist for both The Iron Maidens and Femme Fatale, and the current touring guitarist for Heaven Below. The heavy metal musician became one of Schecter Guitars newest endorsed artists in 2016 and has since released solo singles.
The Nikki Stringfield A-6 Floyd Rose has a swamp ash body and a quilted maple top. This axe is best suited for solo playing and offers clear highs, strong mids, and huge lows. This guitar scores well on playability and its tone is perfect for heavy metal.
Nita Strauss

Best known as Alice Cooper's touring guitarist of the past 5 years, Strauss has also played with R&B star Jermaine Jackson, the all-female Femme Fatale, and the popular tribute band The Iron Maidens. Celebrated for her skill and commanding stage presence, Strauss was the first female to design a signature guitar with Ibanez.
There are two versions of Strauss' signature guitar, JIVA10 (blonde finish) and JIVAJR (blue finish). This axe was designed for speed and offers optimal playability with a 3-piece Nitro Wizard neck. Strauss named the guitar JIVA after the Sanskrit word for "an immortal living substance" or "an individual soul."
Reba Meyers

Meyers is a guitarist, vocalist, and a founding member of the hardcore punk band Code Orange. The band has daringly fused elements of metal, punk, and industrial to create their own distinctive sound. Code Orange was nominated for a Grammy Award for Best Metal Performance in 2018 and again in 2021.
Meyer's signature guitar, the RM-600, is built for precision and heavy sound. This axe features a neck-thru-body construction and beveled edges for optimal comfort against the guitarist's body. With an asymmetrical, double-cutaway viper body finished in Black Marble Satin, this signature model captures the sleek intensity of Reba Meyers.
Sarah Longfield
St. Vincent

Grammy Award-winning Annie Clark is better known by her professional name, St. Vincent. She is a musician, singer-songwriter, actress, and director. St. Vincent is celebrated for her complex arrangements and has won various accolades in addition to her three Grammy Awards.
St. Vincent has two models of her signature guitar, the St. Vincent (blue finish) and the St. Vincent Goldie (gold finish). Both guitars have the same retro-futuristic angular body but different humbuckers that give the guitars distinctive sounds.
Tash Sultana

Sultana is a non-binary Australian multi-instrumentalist and singer-songwriter. They play many instruments, including the guitar, piano, bass, drums, trumpet, and saxophone to name a few. Sultana's international career took off in 2016 and they have since sold out their global arena tours.
The Tash Sultana Stratocaster offers a wide tonal range with its versatile HSS pickup configuration. This model also features 22 medium jumbo frets that provide increased playability and a vintage-style synchronized tremolo for a classic vibrato. The Transparent Cherry finish pairs with gold hardware for a classic look.
Yvette Young

Young is a multi-instrumentalist, vocalist, and founder of the math rock band Covet. Her musical style resists labels as she combines modern rock, alternative, classic and folk with her calculated rhythms. Young continues to draw fans worldwide through her subtlety and harmonic mastery.
Young's signature guitar comes in two models, YY10 (slime green sparkle) and YY20 (Orange Cream Sparkle Finish). While there are some technical differences between the two guitars, they both lend themselves to tapping and technical leadwork.